So you've cum to this Erotic Monkey review because you want to know if this exotic escort site has everything that you're looking for in terms of women, prices, quality, and simplicity of use.
Good!
You're here.
Hooray!
Maybe you have explored other escorting sites like Doublelist or Bedpage and had some bad experiences. Maybe they did not rock your boat.
You know, some of these escort sites with personal ads like Craigslist Personal and Backpage have users who don't even show their faces.
Yikes!
Who wants to date a ghost?
We know your pain well!
Have no fear because NSFW 411 is here with an exclusive EroticMonkey.ch review that will cover the following information:




How to hire escorts once you find someone of interest




How to read the full reviews left for escorts



How to cancel your Erotic Monkey membership



How to get an erotic massage if that if what you're into (RubMaps)




What type of escort ads you will find here





How the advanced search feature works





And much more
Erotic Monkey: Never Spank the Monkey Again!
After 15 years of spanking my monkey, I got fed up with the Autoblow action.
It's time to jump into some BOOTY - real booty.
I love the Erotic Monkey tagline, "Never Spank the Monkey Again," because it describes me. Plus, it alludes that you never have to beat your meat again because escorts can be your alternative.
Professional escorts are in abundance here offering a variety of services that you will find in the escort ad description box. More importantly, most of these escorts are good lookin'. A few, however, are rough around the edges, but hey, you would find those booger wolves everywhere you go.
The escorts featured on Erotic Monkey are nationwide (no worldwide locations, unfortunately) and in major cities only:




Chicago





Los Angeles





New York





Seattle





Atlanta





Miami





Houston





Etc
Unfortunately, I don't see many in small towns, but smaller cities do have some escort ad lists:




Colorado Springs





San Mateo, California





Virginia Beach





And many more
Erotic Monkey Escort Review Site: Escorts
Erotic Monkey has plenty of escorts at the top of the list who have verified photos and Active banner ads placement across their introduction photos.
Those banner ads indicate who were recently online or who are online right now, so you will get a quick response from them should you reply with a message.
Most banner ads feature escorts who are of the female gender, women, however, there are a few trans escorts there. You will see their banner ad with TS or Ladyboy in the title. But keep in mind, they are not require to disclose their gender at birth. Good luck with that!
Every escort review page will show the the escort monkey character:
Another section is the description part where the escort writes the information herself regarding the type of payment methods they accept (whether it be Cashapp, Zelle, Cash, etc), rates, and a whole lot of all the information you need to decide if sex is part of the forecast tonight.
Erotic Juan: Latina Escort Review for Central and South America Sex capades
Erotic Monkey has a sister Latina site called
https://www.eroticjuan.ch/
where you can find all the reviews for Hispanic escorts from the following Latina countries:




Colombia





El Salvador





Belize





Mexico





Chile





Bolivia





Brazil





Chile





Costa Rica





Guatemala





Guyana





Honduras





Argentina





Ecuador
What is really interesting about this list is that there are no European Spanish escorts from countries like Spain.
I guess the REAL Spanish women ain't got time to be escorting and shit.
Erotic Monkey Review: Pay the Membership to Read Full Reviews
Erotic Monkey is a trip!
They won't let you read the full newest escort reviews without paying for a full membership.
So I paid.
Here's the proof: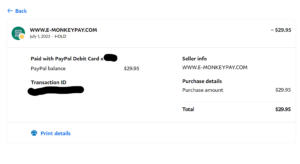 And I was able to see all of the escort reviews in full.
That's all I really noticed the premium membership gives you access to.
Upon further investigations I found a part of the page that fully describes the benefits you supposedly get:
Unlimited site surfing
Some escort websites will stop you from surfin' at a certain point.
Many of them do it.
Read full reviews
You can read the reviews in full and see some of the juicy details that are not available with the free membership. Reading some of these reviews about escorts hypnotized me, because they're so raw.
View all photos
Sometimes one photo doesn't tell the entire story. You might meet up with an escort carrying flowers in hand, thinking you're going to meet Miss. Luna and you end up meeting with a whole oompa loompa. 
Not cool.
With the premium membership, you can view all of her pics so you get a better understanding of how she really looks.
I mean, nothing's gonna protect you against photoshop but at least you get a better visual of who you're meeting.
Instant Message
You don't need to email or play phone tag because you can now get the convenience to instant send messages through the EM website.
Nice! 
Exposed Contact Details
Some escorts have their details hidden and you can only see them by signing up for a membership.
Oh well, you gotta give in order to take.
How Much is the Membership?
You will dish out a cool little $30 a month and a big $140 bucks for 6 months that will need to be paid up front.
How to Cancel an Erotic Monkey Subscription
Canceling a membership is super simple if you are already logged in with your account:
Canceling a membership is a bit different if you are not logged in your account:
Provide the following details in the prompt:
Monkey Erotic Escort "Fun Stuff"
Erotic Monkey has some fun stuff you can engage in.
Site's blog and forum have the scoop about Erotic Monkey's future business dealings and the newest escort ads that have been added to the site.
Erotic Monkey Final Word
Using Erotic Monkey is straight to the point. All the information you need to communicate with an escort, see her pictures, and find out what services she offers is on one page.
This site is best for guys who hire escorts often. Not really good for people who plan to use the site only once.