Craigslist Personals and Backpage are gone with the wind due to federal government bills, and now the new booty on the block is Doublelist.
Now you wanna know if Doublelist is a good replacement or alternative for online dating or even to find an escort for casual encounters. 
We answer this question and more in this super exclusive Doublelist.com review that will evaluate whether you can use Doublelist to meet somewhere tonight.
In this article we will attempt to answer the following topics:




Is Doublelist free?





Is Doublelist safe?





Is Doublelist a good adult friend finder?





What is the registration process like?





Is Doublelist safe?





How does it work locally?





Do I need to provide my phone number for phone verification?





Is the user interface fairly simple to operate?
Doublelist Review: Personal Ads Similar to Craigslist (First Impressions)
So you might wonder whether fuck do I keep mentioning Craigslist Personal and Backpage in a Sex Dating Sites section for a Doublelist review?
Well, simply, honey, because many people believe that Doublelist is one of the best Craigslist Personals and Backpage alternatives on the net right now.
Craiglist Personals and Backpage got shut down by the federal sex trafficking task force, but there was still a need for people looking for similar sites to hookup with someone with similar interests. People's desifre for girl guy and guy girl relationships are still there.
Hence, all the alternatives hookup sites with personal ads like Doublelist popped up and snatched the throne.
Right out the gate you get that Backpage feeling because the classified ads are presented city by city. Therefore, if you live in Chicago you will only see classified ads only in the city you selected. However, I realized it's actually relatively difficult to change your location in the settings. In fact, my default location was in Sydney, Australia. I live nowhere near there.
Here are some of the major cities you will see on Doubelist:




New York





Chicago





Atlanta





SF Bay Area





Dallas





Seattle





Toronto





Las Vegas
Just to name a few.
Doublelist Review: A Mirror to Craigslist Personals and Backpage
Everything about this hookup site screams Craigslist and Backpage, but mostly Backpage. Evident from the way the ads are set up to the general placement of the selectable pages:




Guys for Guys





Women for Guys





Women for Women





Couples for Her





Couples for Him





Males for Couples





Females for Couples





Straight for Gay
Anyone who has visited Backpage knows that this list looks very familiar. So if you have ever met someone on that site you will be pleased to know that you will use a page set that you are already familiar with.
Doublelist even has more sections like
Platonic Friendships
with subcategories including:




Guys for Guys





Women for Guys





Men for Women





Women for Women





Dating misc
From exploring these areas I quickly realized they are very SEXUAL.
No one is looking for any damn friends there.
Please, I beg you, do not get your ass on there and think you will find active users looking for friendship.
Nope, your ass will be at home thinking you have a gaming partner sitting next to you playing Mario Kart, but in reality, that person might try shoving bananas up your ass instead of throwing them at Toad.
You know, instead of attacking the Bowser warrior, you might accidentally come across the Booty Warrior.
Usually, the people you will meet are regular people who are just freaky as hell.
Doublelist does, however, still have 'Fun Stuff' you can engage in if you ever get tired of having casual sex conversations in erotic chat groups.
Sometimes a person need to take a break from all that freaky behavior.
Not everyone wanna be freaky all the time.
These 'Fun Stuffs' include the following:




Blog





Sex Mastery/Sexual Education





Quizzes





User Submitted Stories





Common Lingo (Glossary of certain online sexual phrases)





DL on Twitter
The good thing about some of these sections is that you can become savvy on the 'freaky talk' that occurs on the website.
Trust me, you're gonna need it.
Doubelist Review: Sex Work is NOT Tolerated
I respect Double List for making a statement saying that sex work or drug selling is not tolerated on the site.
However, let's be real, people probably engage in some those things, they just hide behind keywords. 
You still need to be aware as to what words and lingo are used on the website, because if your personal ad is too sexually direct, it will get deleted.
But some of the code words in the personal ad titles are so obvious and actually borderline hilarious:




Can I buy your panties?





Nudist seeks friends.





Looking for a handyman to clean my kitchen.





I'm hungry, looking for some d!ck and food in my mouth.
As you can see, you cannot discuss sex outright, but when you pull back all the layers that's exactly what people are talking about.
Doublelist Review: Is Upgrading and Paying for Doublelist Worth the Price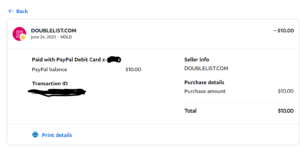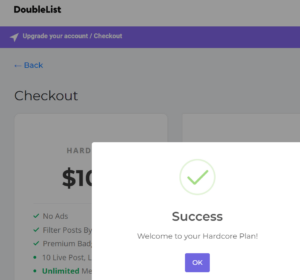 If you are the type of person who cannot control your horny levels and you just love getting on these dating sites trying to find somebody to hook up with, then it would be justified for you to pay.
One major reason is the prices are not that expensive.
For only
$10 a month
you can enjoy the following benefits (currently
discounted at $7.50 a month if you choose the annual pricing):
Is Doubelist Safe?
Probably not.
At the end of the day, you do not know who is behind the screen under that title since there is no photo verification.
Some of these users will respond to your messages and posts quickly, especially if you have a photo because they can put a face to words.
Unfortunately, most users do not have a photo so it would be difficult for you to do that.
The only way you can verify the person is by making them get on live webcam or FaceTime.
Also, since you do not know anything about these people, anything can happen so it's best to practice basic safety precautions.




Meet in a public setting





Stay vigilant and keeping your eye out for anything out of the ordinary





Just have basic street smarts and you should be fine
Doublelist Review: Easy to Cancel a Subscription
I did not have to jump through hula hoops in order to cancel the subscription.
All I needed to do was go to my account, click on settings, click on manage subscription and viola. 
CANCELED. 
This was the easiest premium membership subscription cancellation I have ever experienced.
Doublelist Review: Final Word
Doublelist is an ok hookup site.
You might need to navigate and transcribe secret text if you wanna find a booty call.
Escorts also hide their trysts behind code words. You won't know anything in depth about who is the person is until you communicate with them off Doublelist.
The site does not seem safe to meet with someone and signing up for the premium membership is beneficial for someone who plan or using it daily or every weekend. However, the price definitely makes it worth trying.
The subscription cancellation was easy as pie, which is huge in my book.
All in all, Doublelist has its upswings and downfalls.
It all depends on what you want and/or looking for.