It seems that you have a desire for a one night stand, and have cum across this Fling.com review wanting a few important questions answered:




Are there fake profiles here or can you find real members?





Is Fling.com really the best casual dating site on the planet?





What happens after you sign up for the paid membership?




Is the paid membership worth the price?



What is the response rate?



What is the success rate?
We  here at NSFW411 will attempt to answer these questions and more because we
understand the pain of not knowing what an online dating platform has to offer. Therefore, we help to relieve some of the headaches by at least using the site and providing the benefits of using some of the various features.
Fling Review: An Introduction to this Online Dating Site
Anyone who has used the internet for any significant amount of time probably has seen Fling.com being advertised on so many online porno banner advertisements.
Even on sites that have nothing to do with online dating whatsoever.
That's how far Fling reaches.
When we visited the front page, we noticed a collage of various sexy ass people (male and female members together) who were smiling from ear to ear.
Are these 'real members' on the site?
HELL NO!
Not to be overly judgmental, but some of the 'real members' look like they are suffering from the effects of a natural disaster.
GRUESOME-lookin' motherfuckers, indeed.
I hate to offend the whole "woke" community, but looking through some of the member pages reminds you of airboating in a Florida swamp
Fling.com ADVERTISEMENTS are ONE BIG RED FLAG
One huge red flag for me was the overly dramatized advertisements of some of their features:




24/7 Profile Review Team





Mobile Optimized





Safe & Secure





15 Years Experience
I have a philosophy that when sites advertise things that are generally found throughout the internet world, it means they AIN'T SHIT!
For example, Everest College used to advertise during the Jerry Springer TV show commercials. Nowadays that school doesn't even exist. 
Likewise, you will never see Harvard University advertise on television during a daytime TV show because everybody is trying to get into that school.
Students are being turned away (rejected) because of the influx.
Therefore, I feel the same way about good hookup sites.
These advertisements are not a good sign.
24/7 Profile Review Team
If Fling.com really has a team monitoring profiles, that's huge! It eliminates the worry about whether you're talking to a bot or a real person. But I assume every other dating site has a team like this, no?
Mobile Optimization
Having an optimized mobile surfing experience is huge in my book because some casual dating websites do not allow you to click on certain widgets, tools because the mobile experience sucks ass.
It's like they got a cheap $5/hour Indian from Upwork to do the app development. They'll be better off having my black ass create the app.
15 Years of Experience
Any other site that's been around for more than 10 years gets a 1-up like Super Mario because that shows experience. Meaning, all the kinks and bugs are likely worked out by now and all the fake accounts are probably gone with the wind.
Remember, I said PROBABLY.
Moreover, Fling has won the AVNAwards, which is a huge benefit like my dick!
AVNAwards would not support a scam site, I suppose.
Fling Sign Up Process: Free Membership vs Paid Membership
When you initially sign up for this casual dating site you are given the option to claim free
Camsoda
tokens.
Cool!
After choosing your likes and dislikes, body types, age, zip code and all of that, you are eventually lead to the membership page.
Asking for the money at the very beginning of the date, of course!
Good thing about Fling is that you can try out the paid membership for as little as $1.
But from experience, that's very limited. 
Ever bought a $1 porno VHS, DVD, or Blu-Ray from the flea market?
It ain't shit right?
That's the way Fling is. I'll talk about it later.
But for right now, at least for me, the 2-day gold trial is only ninety five cents.
Who can't afford a dollar, right?
Most other dating websites, on the other hand, force you to pay for a one month membership.
Of course, Fling tried to get more money out of me by automatically signing me up to
MeetLocals.com
.
Nice try!
You thought I wasn't paying attention, huh, Fling?
DECLINED.
So I paid for the Gold Membership.
APPROVED.
However, I am disappointed that I can't see FULL-SIZED member photos without upgrading the membership after I just paid.
Again, this reminds me of the $1 porno DVDs I would buy back in the day.
Horrible.
It's a shame because even the $1 membership is restrictive. For example, you can't send more than
2 messages without upgrading
.
Bummer.
To add insult to injury, everything is messed up because the response rate is very low. I'm not paying more money. These women are probably inundated with horny messages from desperate guys like me anyway. So unless you stand out like a sore thumb you probably wouldn't get anywhere.
Then you need to pay extra money in credits to view some members' premium content. 
Credit prices breakdown:




500 credits - $5





2000 credits for $10





5000 credits for $50
These credits can be used to
Tip
, move your photo on
top of the cue
, get access to
premium content
, and most importantly,
send extra messages
.
Fling even has a
live members
section, which costs even more money to engage. 
It's like Fling is trying to fleece cash from you at every turn.
I don't think it's worth it.
I rather meet women at the mall.
Proof of Payment Below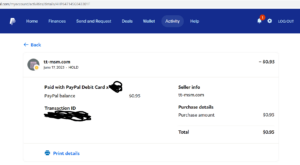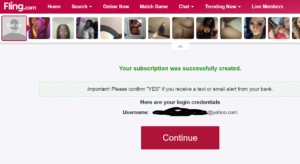 Fling.com Online Dating Service: Fake Profiles & Bots? Are Some Members Real?
I came across hookup sites with fake accounts before, so I know which profiles to look out for. 
My suspicions came true when I didn't even upload a photo yet and already someone is hitting me up in the private messages telling me
I'm cute
.
How?
You can't even see me!
A dead sign this message is sent by a robot.
I wonder how other dating sites will use AI (Artificial Intelligence) to send fake messages to users that actually engage in conversations with you. Just a thought.
Of course, I cannot send a message as a free user and need to upgrade to chat with the bot.
Bummer, again.
Some of these hookup sites are singing the same sad-ass song.
What has internet dating come to in the new millenium?
Good thing is, you can, however, take a look at profile pics as a free member, but you cannot view an entire dating profile without upgrading.
Restrictive and annoyed.
Obviously, the bots are there to hook you like a largemouth bass and drag you along the water's surface until you knuckle down and pay for the upgraded membership.
But I will admit that some of these profiles are definitely VERY REAL.
And some of these people are NOT the happy-go-lucky smiles that you see on Fling's homepage.
I want you to refer back to my natural disaster comment.
At least you can use the ADVANCED SEARCH feature to narrow down your search.
You can find people looking for serious relationships, casual sex, sugar daddy shit, casual one night stands, bi curious people, and those with alternative sexual orientations.
Flling.com Review: How to Cancel a Membership
Canceling a membership is a process that is neither hard NOR easy.




Go to

Account Settings




Click on

Deactivate account




Click on

View

under

Help

with

Premium or Billing




Located

#10: How do I cancel my membership?




Click

cancel your membership here
You can also call the toll free number or email them and provide your Bill ID to request a cancellation. 
Like clockwork, if you try to leave Fling the site will offer a GOLD membership for only $10 a month. 
DECLINED.
Final Word: Fling.com Review Membership
Fling did not produce any results for me so that left a sour taste in my mouth. 
I feel like there are better ways to hook up with someone for a booty call.
It's like a scavenger hunt just to cancel the gold membership if you don't already have the instructions handy. Luckily, I provided them for you.
Some of the profiles are obviously real just by the way people look, but there are plenty of bots here too just by the messages telling me I'm sexy and I don't even have a photo on my page.
However, I personally wouldn't waste my time with this site because it produced no results and I feel there are better ways to meet women
I'd rather go to
Adult Friend Finder
or somewhere.