What the fuck is a FuckBook?
This review will explore this dating website to determine if it's worth paying for.
I spent my hard-earned adult male-modeling money (with proof) so you can make a choice whether paying for a Fuckbook.com premium membership account is worth the money. 
So many scam dating websites ask for your credit card information all the time to pay for Icebreaker messages, just like Fuckbook, and then once you give your details you get back nothing but auto-generated messages from bots and fake profiles.
Not worth the trouble!
I'm not saying that purchasing a Fuckbook premium membership does that, but DAMMIT, the site is hovering dangerously close to that similarity.
Let me stop with the word salad and tell you whether I think a paid account with full access is worth your time and money.
Fuckbook Dating Site Review: Do You Want to See Google Chrome Notifications to See Naked Girls on Fuckbook?
Fuckbook.com is NOT free-account friendly. If you want to do anything, including looking through profiles, chatting, or accepting or rejecting friend requests, Fuckbook is like that ugly-ass troll on the bridge that you need to pay to proceed forward.
You can't perform any major features unless you pay this motherfucker. That issue alone is super annoying for guys who just want to use the Fuckbook dating site on the weekend to find some no strings attached sex. 
Also, Fuckbook is drenched in advertisements from cam sites to penis enlargement bullshit. Moreover, using the Fuckbook dating site is super confusing because while I'm on the homepage trying sign up for an account, an advertisement is asking me if I wanna see naked girls on FuckBook pops up.
Naturally I click Yes and
now I have random naked girls notifications
popping up on my Google Chrome browser that I can't stop at the most random time. For instance, I went to the bathroom, came back to the computer, went on YouTube to watch some prank videos, and then this NSFW (Not Safe for Work) notification from Fuckbook.com popped up when it was not even on my mind.
Now I needed to Google "
how to turn off Google Chrome notifications
" to remove these notifications and was successful at doing so. But damn, imagine if I was at work or in an airport, or even worse, at school!.
Another bad aspect is that their location system is all the way off. The system thinks I'm in Cermak, Illinois. First of all, there is no such thing as Cermak, Illinois; however, I live a couple of miles from Cermak street in Chicago, Illinois. I think that's what they're talking about.
All in all, Fuckbook is starting to annoy me right now.
Fuckbook.com Review: Bots Bots & More Bots - Oh My!
I guarantee when you're searching for a legitimate dating website to spend money, you are wondering, "how many bots are on this site?" I know I do! That's a major question users who write dating site reviews generally ask about.
So my final answer is YES I believe bots, fake profiles, and fake accounts are everywhere. When I finally paid for an account and messaged users not a soul responded to me in a manner like a real person would.
Yes, it's that bad!
A woman named Julie, some naked chick with her legs spread wide open like a 6 piece Wingstop dinner, is showing her pussy to me and allegedly left me a message stating, "
Do you wanna fuck me today? Write me?
"
Motherfucker, I don't know you!
Then when I write to her - nothing!
Next thing you know, whamp! Another page opens up to JuicyDate.com. And then another pop up prevented my penis from popping up tonight linked to a cam site.
This time the page automatically signs you up for an account on Juicy Date although you didn't agree to registering.
What's happening here?
Man, I know
FuckBook is probably
an affiliate of ours, but I can't lie and make up shit.
I started thinking to myself,
"Maybe I can find a real girl somewhere on Fuckbook to hookup with."
So I slipped on my thinking cap and searched for someone close by my area and started typing a message to a 23-year-old black chick who allegedly stays in my neighborhood. 
Unfortunately, her last name was Nguyen (Asian). even worse she started typing to me in Spanish! Slap my ass and call me daddy, you can't make this shit up!
Man, if you don't get your Filipino scamming ass off of my damn screen -
I exited the window.
Check this out; all of these bots or fake people work together, I believe. 
I made this determination because when I typed "Yo" to a black girl, then a 26 year old white girl turns around and messaged me "Yo!"
Basically, mirroring what I had just said.
Another so-called 'user' named
Julieth_Moon
just told me that I'm a hottie, and I don't even have any pics on my profile page yet!
Dead giveaway!
Mannnn, get this fake shit outta my face. I rather sit on the toilet than to sit on FuckBook or its affiliate dating sites all day.
I believe site is so desperate that they added an entire list of Friends who I don't know or didn't add.
Of course, you will see messages that generally says, 'if you wanna read any messages from these people you need to pay for the premium'.
It's so bad that the bots encourage you to sign up for the premium account so you can send an Icebreaker message to other fake profiles.
What's going on here?
Even the website admits in their
terms of service
that there might be scam profiles on the site, but it has nothing to do with Fuckbook.
Are there any real people here?
Fuckbook.com Review: Pop Up Ads that Makes a Me Sick to my Stomach
For those of you who don't know, I am currently a caregiver for grandmother and these motherfuckers must have taken a look at some of my cookies and seen saw the incontinence supplies and Vicks Vapo Rub that I searched for on Amazon because now I'm getting popups from JuicyDate saying FuckAGranny tonight!
Dude!
Fuckbook Review: What Happened After I Paid (Proof You've Been Patiently Waiting For, Thanks for Reading to this Point)
I guess FuckBook is like the sexual version of Facebook because the feed is set similar. A user can post a photo or status message and people can respond in a thread underneath.
Unfortunately, all I see are thirsty guys just like me, some with VIP statuses, talking about how they wanna fuck the user.
In fact, when I taken a look at some of these women's friends list, all I see are guys with their dicks exposed.
Not at all like Facebook!
Anyway, I paid for the membership: Here is the proof below: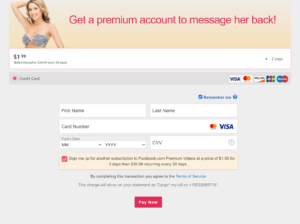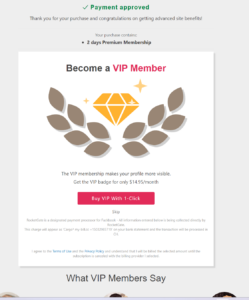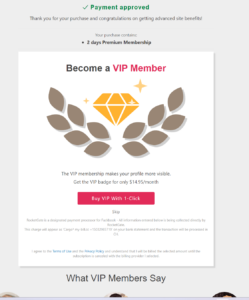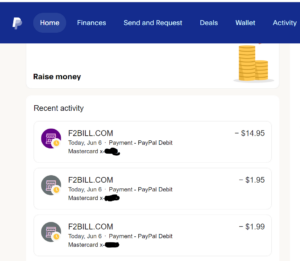 After I paid for a membership and VIP status, there was another popup for LustSeek, and it seems they were STILL trying to get more money out of me. Like, dude, you're worst than my cousin, I just signed up for a membership, VIP, and access to Premium videos and you still want MORE money. If I was a delivery driver or school teacher, I couldn't afford to pay for all this stuff. 
After I paid, however, I didn't notice a difference in anything really. Everything is still the same. 
Only difference is I can message people now.
And guess what?
NONE OF THEM RESPONDED. Not a soul!
I even added a picture of someone I didn't like. The guy isn't good-looking, but was dressed professional. No way I was gonna use my real photos up there. Maybe that's one of the problems, my photos weren't verified.
Anyway, I continue messaging women and STILL NOTHING.
I found the loneliest, most wildebeest-looking woman who was ONLINE now. I knew for sure she would all in love with the piece of shit I have on my profile page.
NOTHING.
I mean, no one responded to me. 
Most of time when i sent a message to someone, there was an automated message that said something to the extent of 'If there is NO Reply we will send you to a place where people are looking to chat'. I clicked on this message and sure enough they directed me to iFlirt.com. Another dating site stemming from a pop up.
Smh, I just paid all this money for nothing.
I know for a fact that some of the Fuckbook.com profiles are fake because some of the pics I saw on an amateur porn websites several years ago. Oh, I didn't forget! 
Fuckbook.com Review: Canceling a Membership & Customer Service Support Team Rating
Canceling a membership gets a
6.5 out of 10
. The customer service support team response is a strong 8/10.
I emailed support outside of their business hours and they canceled the membership for me the next business day.
I wasn't able to cancel over the phone because I always called outside of business hours even though it was on a Wednesday afternoon; I believe they operate on UTC time.
You can cancel through Live Chat as well.
Another way of canceling a membership is by writing them, but that's a long shot. The company is located in Switzerland. Getting a letter there would take forever, and that's if it even gets there!
Fuckbook Review: The Premium Videos are Nostalgic
One huge benefit of signing up for a premium membership that made me shed joyful tears was the massive collection of thousands of old-school porn videos that I personally used to watch on DVD back in the my day. 
I believe I had to pay extra to get access to these, but it was definitely worth the money.
I jacked off to some of these DVD movies when I was a teen and it brought me back to a special place my life.
13,000+ and counting.
Wow!
Fuckbook Review: Final Word 
Fuckbook.com was not a success for me at all as a dating site. I get better responses on Adult Friend Finder. 
The site is set up like Facebook, which is good. However, none of the women responded to my messages, which leads me to believe those profiles were fake or that I gotta do too much work in order to get a response from real women.
The old-school flea market DVD porn movies is a good reason to pay for a membership.
However, using enduring the stress or pop ups and notifications are not worth it for me or some other members.