Hot dammit! I'm not screaming in a rage; I'm happy as hell jumping with joy that Camsoda has stepped up their game to a new level! I have reviewed this website a bunch of times about a year ago, and let me tell you. I haven't seen this many bad-ass bitches on here that I'm now looking at right now with drool running from my mouth! I have become the proverbial 'hound dog' for a SodaCam online twerk cam girl. I see that the staff must have taken my critical advice. Great job!
Camsoda token prices diced in half
The member sign-up for tokens is not as expensive as Chaturbate or LiveJasmin. The quality is intact with the free cam models performing at budget prices. Camsoda is like the Super 8 motel of live sex cam chats.
You don't have to go to those Indian sex-pay live porn feeds and feed them your last dollar to see a fupa overlapping some skintight jeans or even a hairy twat that looks like Bushman lurking in the front yard. Or, also take your ass to the premium cheap Asian adult streaming chat services with petite, stick figures in Cambodia, Vietnam, Burma, Philippines, or Thailand where they do not speak-ah any English. No, right here at home base in grand USA, UK, Australia, or wherever, the women, who are smokin' hot sexy, perform on live webcam for the same prices. And guess what? They activate Beastmode trying to get those tokens up to buy a house or some McDonald's for the day. I noticed these women are not stuck-up like some of those bobbleheads who think they are world-famous cock stars on MyFreeCams or Chaturbate.
Sign up account payment options are looking mighty attractive
Again, if you're a cheap-ass son of a bitch, like me, then you have experienced your fair share of getting rejected from depositing tokens on a cam site because you're using a prepaid debit card. Nope, that won't happen on Camsoda because they accept a variety of payment options to get those coins.
Most illegitimate cam sites do not use PayPal because the company probably got too many complaints about unexpected repetitive transactions. Camsoda does not have that issue, which shows you the website is 100% legit. Aside from accepting PP payments is crypto-currency, wire transfer, personal checks. I could have swore Camerasoda did not have all this stuff listed before.
When it comes to the membership prices for the tokens, what can I say? The best one is the 300 tokens for $10.99 as a limited offer. I jumped on that like a male bunny rabbit on a female in heat. Offering deals like that gives beginners a chance to get temporary access to take a sneak peek at the cam girls like they are outside their bedroom in a tree holding some binoculars having fantasies about lying in that bed.

I believe my eyes might be playing tricks on me because I could swear that I saw 200 tokens for free. Camsoda is trying to get me to give monthly tips to spy on naked cam girls. Look at this; no ads, private messages, and hidden usernames. Sign me up!
Camsoda review: tabbed links will take you where no live cam sites have ever gone before

Camsoda decided they're not going to keep all of the revenue for themselves. At the very top of the screen staring you in the face are several tabs that include Stream Live that connects to a website called Instabang. Many people in the porn reviews community suspect that Instabang is a scam, and I'm one of them. But if this website has a relationship with Camsoda, it must be legit, I guess.
Some of the other tabs go to different sections on Camsoda I never knew. One such section is the Exclusive Full Porn Videos. All I can say is hot damn! What resolution are they shooting this stuff? 16K? The video footage looks crystal clear and realistic like I can just step right into the porn video scene with the models and become 'the man' they're ogling over. The videos run-times are approximately 30 minutes to an hour. We got full-length masturbation videos here! You could spend all day and night playing with yourself using Camsoda alone. I like that!
Another tab connects to another side of the website for those who are suckers for love - men and women who have a heart and want something more than sex. But if you happen to find a date on a live sex cam site, you might want to reconsider the direction your life is headed. Sex ain't love.
Create an account to cam live chat and get control of a lot of things
When you get a Camsoda account, you are in the game, baby! You can see a list of all your media purchases online and return to the ones you like at any time. Your account billing information and token history are right there for accounting purposes. It assists all the analytical stick-up-the-ass nerds who count every dollar.
The next section is to become a model for live cam2cam sex. And yes, guys can become cam boys slinging their ding-a-lings all over the place. Camsoda doesn't discriminate, buddy. Too bad, it seems like men wouldn't make any good bucks. When I searched the keyword 'male' all of the men were offline. Too bad gigolo bros!
Users profiles whisper sweet everythings in your ear
A few things I like about Camsoda are the specific searches of selected keywords and multiple sections to find certain models:
Featured
Top Rated
New
Followed
Women
Teen
Spyshows
Voyeur
TicketShow
Cam2Cam
ohMiBod
I admire those motioned-picture previews, so I can know what's happening in a stream before clicking. Every streaming service webcam profile has an Upvote and Downvote to let you know which content sucks and which gets a thumbs up.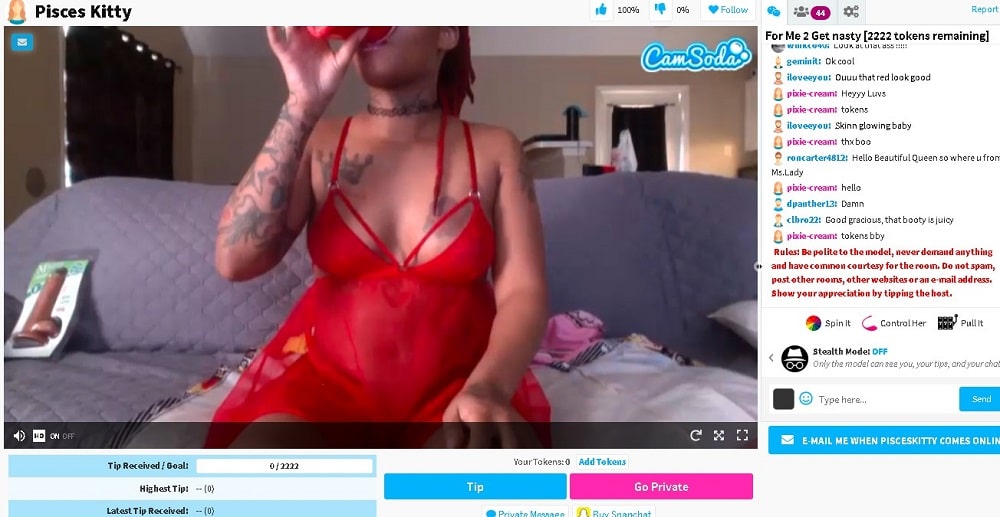 Turn on the Stealth Mode to keep your username, tips, and messages hidden if you are the type who likes to stay private.
I like that the entire bio of a model is on the same page of the stream. It takes the guesswork out of clicking to another page to find more information about a woman.
Some of the things in the bio are:
Language
Eye color
Hair color
Gender
Location
Breast size
Weight
Body decorations
Tip menu
Name
Age
Drink/Smoke
Some women have tip goals they're trying to reach, which shows they are all about that mula. They won't get up off their lazy butts and do anything if the tokens don't start rolling at a pace they like. Sometimes these women will reset the token goal without doing anything erotic to get more money. Cheaters!
Camsoda.com make my masturbation sessions feel full. There is a button to turn the HD resolution on and off. I believe the res could be higher, but that's ok.
So what am I saying about Cam soda? - Review conclusion (finally)
I remember visiting soda cam about a year ago. It wasn't this fantastic. The review I read made it seemed different. Camsoda is using an iron fist to advance to the next round. But the setup, is all the same you will find on most webcam sites, nothing special there. But I love good prices. That pink toy turns me on.
Sites like Camsoda are Stripchat, Cam4, and Bongacams.