Adult Friend Finder Networks' 25 years on the internet marked history. They provide adult dating services for horny ass members across the planet. That feat is unmatched by anything remotely fathomable. Even the largest cocks in the world can't hang! So, you already know that this website has earned award after award from the most famous erotic media publishers
XBIZ
,
GFY
, and
YNOT
.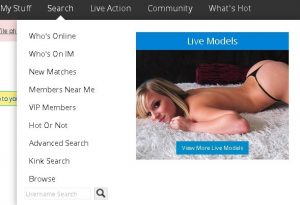 But I heard about the bots
Before I get into my spiel about how great Adult Friend Finder, let me first address the reputation it has for bots. I want you to slip on your thinking cap for a moment and reflect on something. Open your ears and listen to me carefully.
EVERY FUCKING ONLINE DATING WEBSITE HAS BOTS!
I hope you got that loud and clear with ruptured eardrums. Most online dating sites have bots. It's nothing new. And the bots on Adult Friend Finder are not even a big deal. The majority of those automated messages come from real profiles. You gotta pay to respond.
Hold up, brah? Do I need to pay for credits to receive messages?
Heck, yeah. You thought this was a free ride? Payment is the name of the game. People translate to money and you gotta pay to send a message to the people you like. So, if you are broke, musty and dusty, your searching, communication, and ability to view picture galleries and videos will be limited. Trust me, you're gonna wanna see some of those sexies in action.
Yeah, you have the option to just sit on your butt and window shop for whores, but if you decide to view their galleries or contact them anyway, the page opens the membership to get those magical credits. Now don't get me wrong, if you are a baller, shot caller, then you can go ahead and pay that $240 for the yearly access to unlimited profiles, searches, winks, and gifts. The cheaper option is $39.95 for one month, so you save more by going higher. Reach for the stars. Sorry, no free trial.
Many of these sexy ass women won't talk to you unless you have a confirmed profile. One way to get confirmation is by participating in CofirmID, a program that wants you to mail a copy of your identification and address information to AFF to confirm that you are you! If you are a handsome fellow, women will know you are for real, and that will make your profile stand out. Paying to get those credits is very simple with Credit Cards, Direct Deposit, Mailed Check, and even Gift Cards. Let me cover the last one for a moment. AFF is so raw that it gives you the power to go to your local grocery store and buy gift cards, provide the code to Adult Friend Finder for the staff to use, and activate your membership. How discreet can a website be?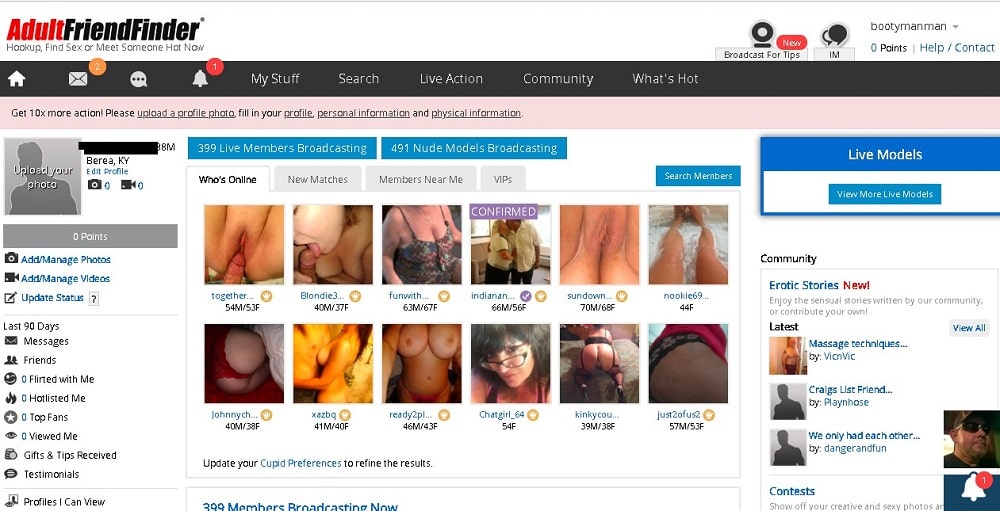 Shut up, bro. How can I find my next bedroom lover
Hold ya' damn horses for a moment because that is a task within itself. Adult Friend Finder has one of the most advanced, sophisticated search engines that I have ever seen. But that is for good measure because of the number of people to sift through. The first search is by username. If you can't find the specific person you are looking for, then it's by their gender. Another search for physical characteristics like hair and eye color, relationship statuses like single or fucking, and personal habits like smoking and alcohol drinking. Then, some of the other stuff goes into religion and zodiac sign for all you astrologers out there. It would take me the entire day to name all of the search characteristics, but you get my drift. If none of the choices work, then it's off to find their location in areas up to 10,000 miles away.
What type of people are on there?
You will literally find everyone and their mama, and they are all freaky. I've seen thick, Euro babes. Sloppy Pillsbury-dough women with jelly rolls everywhere - from their stomachs, thighs, ass, and more. There is no shortage of dicks among the sea of women popping up on your screen neither. Adult Friend Finder sometimes mixes the males with the females. Luckily, the staff must be a bit homophobic because I'm happy they did not insert a tranny randomly in the results, which happens a lot on PornHub. Hey, again, whatever floats your boat - just don't sail it my way.
I have seen people talk about incest and rape - illegal stuff. I will bet my last dollar that celebrities are on there as well. Sharon Stone recently got banned from Bumble because people thought she had a fake account. Makes one think that celebrities, especially when they get a certain age, need love too.
You will find a lot of sugar daddies paying a buck for a quality fuck. Prostitution is not legal. However, some women will give off the vibe like they are interested in giving free sex but will hit you with a price tag at the end of the encounter. Like, WTF! But those undercover whores with pimps in the background are on all these sites, mostly, and that's why most online dating sites frown upon sex work. Conversely, there are a bunch of sugar babies too. Some are upfront about what they're looking for, and others try to stay hidden under the sheets. We see you! There are liars on top of liars on here, but if a person is paying some money for that golden membership, they tend to keep it real and honest, unlike Ashley Madison where people have every incentive to lie and get paid.
One major issue that many users face is the Nigerian prince or princess who sends messages about the million dollars stuck in some bank account, and because of international law, they can't get to the money without paying a fee. That's where you come in to pay the fee to get a percentage of the money. Yeah, right.
What are the 'fun' things to do on Adult Friend Finder
Well, talking to women about every kinky thing you have dreamed about is pretty fun. But Adult Friend Finder takes things up a notch. They have a game called 'Hot or Not' for superficial assholes to judge photos. So, they would swipe one way to approve and another to disapprove.
If you are an avid reader (you gotta be if you are on NSFW411), there is a magazine area to cover all types of topics in sex erotica. They could be about Building a Relationship, Poems, First Date, Dating Safety, and more stuff. These are articles written by real members on Adult Friend Finder. You too could become a writer. If you like the way I spit, you can become a charismatic writer like me by practicing on AFF. Maybe you can work for us! I'm dangling that passive income carrot.
However, if you are a nerd 'nerd', the Sex Courses at the Sex Academy might be more of your forte since you have to study them like you are in college. Great for guys and gals who are sexually inexperienced. Think about this. You can finally get some booty using the sex secrets given in these exclusive courses.
If none of these things tickle your fancy, and you are a window whore shopper, then AFF has an entire store under the banner
Adult Friend Finder Movies
carrying all types of naughty goodies. There are movies from popular porn studios like Evil Angels, Digital Sin, and Girlfriend Films. If your prefer something physical and not visual - anal toys, BDSM tools, sensual products, autoblow for guys are there. Once you're on AdultFriendFinder, you don't need to leave.
Help me with the security
24 hour digital security guards are making their rounds and removing posts that violate AFF's Terms of Service. A customer Help Center is available with articles covering any concern you have about AFF. If they do not provide enough useful information to help rectify your issue, then there is a Feedback Form to submit to create a ticket. Word on the street is that their data center is located in Santa Clara (outskirts north of San Jose), Silicon Valley, California, the tech capital of the world. This city has Google, YouTube, Facebook, Amazon stationed there. You best believe that the best tech experts are working around the clock to keep your data safe.  A high-end 256-bit SSL encryption stops hackers in their tracks from getting a peak at your sensitive info. You are protected, bub.
AdultFriendFinder is too legit to quit
I'm glad you arrived at that conclusion, now give me my just do. I'm too legit to quit. Adult Friend Finder is the major online dating website. The reputation is there. The search engine is the most advanced. Hundreds of millions of people cum here to search for adult friends. There is not anything else to ask for from a website like this.