Calling all cam bros and cam hoes who have an interest in seeing some hot cam videos on their computer screens. Do you remember those special, hot, live sex scenes you saw on CamWhoresTV.com, Myfreecams TV, Chaturbate TV, and softcore Cinemax on cable television (just kidding about the last one)? They'reee hereee!

WTF! When I Googled "Cambro," the only results in my feed were some damn backup generators. At least I now know how to keep my computer running during an electrical blackout when I want to continue masturbating under candlelight or the luminous glow of a flashlight.
Cambro Viewership is Low, but It's Getting Up There
Listen here. CamBro is in the 'secretive' part of the internet because most people don't know about it. Like I told you earlier, when I Googled it, I couldn't find the porn link. So, I figured out to go directly to Cambrotv.com to open the webpage. I was happy I became Detective Gadget!
Some of the hottest cam videos that you love to daydream about at work only have single and sometime double-digit views. The most popular features can have thousands or tens of thousands, but there are not many of those. Only a small amount of people (compared to PornHub) are coming here, but there are tens of thousands of videos to watch. So you can feel like you're the "only one" since the video is not cheating on you with a bunch of guys because there are not many eyeballs looking. By the time this post has aged, some things might change and CamBro might become a large cam tube.
Likewise, if you are an adult entertainer, then posting on CamBroTV is not worth the money and probably wouldn't get you any fame. But, it's an excellent place for couples who want to share their sex tapes to a couple of special souls.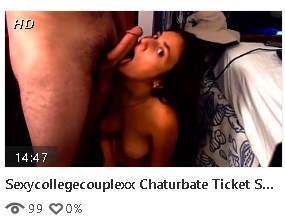 Rev that Search engine
Us pornsters love the benefit of having a search engine embedded in a website to find precisely what we are looking for. CamBro has one that pulls no punches. It is not advanced like what you will find on XNXX or PornKTV, but still gives you what you want.
When I typed in BJ (BLOW-JOB for those of you who are new to this), I got that. Asian, I got that too. Dildo-sharing, WTF you think I'm looking at right now while typing this? I might cop that fake pussy I saw on SexToyCollective after watching that SexyLorry video. And the results are the most relevant ones. That means only the most popular videos watched push to the front line. If you can't think of a specific category to type in the search box because an erotic haze clouds your mind, then there are pre-chosen tags like Porn Cam Chat, Anal, or MFC (Myfreecams TV) at the very bottom of the page to click.
Videos length and content
The length of the videos are from one minute to a couple of hours. There is no shortage of masturbatory ammo in your cum-war chest. So, you can blast your load all over the videos with the quality people you see on live cam sites. For example, when I searched for Covelynn, one of most fire MFC cam girls, viola, I could see 6 of her videos in the results. The SexxyLorry twincest camwhores masturbating side-by-side, I found them too (Man, they're hot!). And Tequilalala from Chaturbate and CortanaBlue was on there too. Tequilalala looks like a dude in the face, but that pretty pink pussy with a pink toy sticking out indicated she is a very real woman for me. Maybe, it's because she's Russian. CortanaBlue, on the other hand, is someone you can listen to all day while getting lost in her eyes. But that profanity is a turn-off. She is still a nice girl with a good head on her shoulders.
CamBro Webcam Videos Command Center
Each video has all the usual commands that you find under any video on the internet.
Report what you don't like
If you don't like what is happening, which rarely ever happens in porn, there is a command to report videos. The likelihood of that happening is zero to none because the majority of the videos shared on CamBro came straight from a legitimate cam site. If it were illegal to post those videos, Cambro or any website for that matter would not let it exist - but you never know what can slip through the cracks.
CamBro Video Screenshots
This one is for all you blockhead perverts playing Super Nintendos, who love 1996, 2D, Minecraft-type of video games and prefer wacking off your wieners to JPEG and PNG images - like me. The video screenshots buttons are there for those hot nights when you're sweating and masturbating - wiping the perspiration from your mouth - but you need a quick snapshot of a particular screen or zoomed-in position to let your imagination run wild. Video screenshots come into play.
Posting comments on the nude videos
The comment feature is available, but it seems that no one ever uses that element. How can a person know if the videos they are about to watch are any good? You cannot know if Cambros.TV porn tube has good content unless you actually watch the videos.
Share the shit with cha' good-ole porn partners
I don't know what type of porn harem you got over there, that's your business - as long as it's legal, but if you have a social media page full of a bunch of pervs like yourself who share cam girl shit among each other, then this site makes it easy. The share feature connects to all of your social media like Reddit, Facebook, Instagram, Twitter.
Warning...
I hope you don't have any of your family members or colleagues added as contacts on your Facebook because you cannot post a link from Cam Bro if they are. The error message will say the link has content others on Facebook has determined to be abusive.
All the other sharing sites like Tumblr, Pininterest seems to work well, though.
Add those pretty bitches to your Favorites
Like most videos search webcam websites, Add to Favorites bar exists to compile everything you have seen, and like, and watch them later. Who would not find this useful?
Categories found on CamBroTV:
Latest
Top
Popular
Pics
Models
Categories
Playlists
People
Live Cams
You can use your imagination to find out the benefits of each.
Say My Final Peace
Cambros is full of cam hoes and cam bros alike, bro. CambroTV has all the usuals that you will find on a porn tube with videos from live cams. It seems to be a mix of cam sites and search tube stuff. I can say the website is truly unique.
If you have witnessed anything special that happened on a live cam stream, because you were slow to the draw too busy gripping your balls and exhaling in awe, Cam Bro might have the footage. Just search for it and hope like hell it pops up.

There is one big con I want to share with you, though. CamBro is coming up in the game with tens of thousands of videos, and because it's getting so big, there are some coding or server problems evidenced by the pic below (I'm not a tech guy). I would suggest the coder should do some tweaking to the user interface or something. I know the problem is not with my computer because I was able to access other porn sites with no problems. The positive side is that this error page only popped up for a few seconds before pulling up the video I clicked on, so it's not a big deal. Just a suggestion. Everything else beyond that seems to work well.