FakeHub.com Review: We got the 411!
Fake Hub is one of the premier sites on the internet for reality porn. You know, the kind of porn that doesn't appear to be staged. Where the girls are getting picked up off the streets and lured into all kinds of kinky situations. The kind of videos that make you wonder what could be if you were only so bold to chat up the hotties that pass you by on the streets each day.
Fake Hub consists of a main site and numerous secondary sites that all deal with various sub-themes of reality porn, such as girls getting lured into sex acts in taxis, cop cars and casting studios. As any Fake Hub review will state, the girls are hot, horny, aggressive and often loud when it gets to the good stuff.
Each of the sites under the FakeHub.com umbrella offers the following content:
• Full HD videos of young, hot, sexy babes
• English sluts and European models who love to fuck on camera
• Multiple sites for the price of one
• Daily updates with new nut-busting content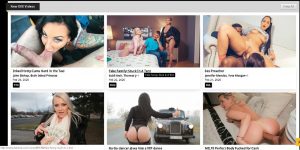 Fake Hub Review: Multiple Reality Sites
When you first land on FakeHub.com, there's an HD video montage on play-loop that shows you choice moments from popular videos on the site. Scroll down and you're bombarded with rows of large thumbnails from various porn videos. When you hover your mouse over a thumbnail, a preview loop of the action plays.
Each preview shows a hot young girl at various stages of seduction, undress and down/dirty action. I should also add bribery to that list, because it appears that some of these chicks are getting lured into these scenarios with cold, hard cash. But hey, they're all smiling.
The previews come from various sites under the Fake Hub umbrella. One shows a barely legal babe boarding a van and then blowing the driver after he stops for a nap and starts jerking in his sleep.
Scrolling down, the imagery looks promising. There's this one Asian cutie who apparently loves to take it in the mouth in all sorts of positions. A couple of panels over, there's a beach blond with a long, pole-sliding tongue who gets fucked out of her mind.
In the panels below, a busty Latina gives a nut-busting POV tongue dance on some lucky guys willy. Beneath her, a purple-haired hottie flashes her flying saucer boobs in broad daylight in exchange for some green.
All this would have you wondering, what goodies await in the membership area? Lots, to be exact. When you sign up for the Fake Hub site, you not only get their primary content, you also get access to bonus porn sites that follow sub-themes of the faux-reality concept, such as Fake Taxi, Fake Driving School, Fake Cop, Fake Hostel, Fake Hospital and Fake Agent.
Reviews of Free Porn Clips
The front page of Fake Hub includes links to the previews of 12 recent videos. One of the hottest looking entries, when I arrive, is from their Public Agent series. It's Basement Fuck for Big Tits Blonde, starring classy European babe Alexa Bold.
The camera guy catches her out for an evening stroll and tempts her with cash. After some token coyness, she's blowing and fucking him in some dim-lit room. She does him in the spider position with her perky tits bobbing out of her sweater and her stockinged thighs thrusting up and down.
In another one of their Public Agent previews, MILFS Perfect Body Fucked for Cash, a short-haired, stylish blonde gets lured by the promise of 4,000 Euros and a modeling contract from a cameraman posing as an Italian talent scout.
After she enthusiastically blows him in an alley, they cut to a nude hotel scene where she's taking it doggy style. The moaning is intense in this clip. I love seeing dikey broads go out of their way to prove their heterosexuality on camera.
In one of the best videos from the Fake Taxi site, a raven-haired European go-go dancer named Sofia the Bum learns that the driver only accepts cash. Since she only carries a credit card, she blows and fucks him to pay for the ride the moment he pulls over. They get raunchy in the backseat and ultimately get caught.
For my money, the best of the Fake Taxi videos is Back Seat Fucking for Hot Romanian Babe, where a suited dark-haired hotty, Sensual Jane, asks for a ride to "Cockfosters." On the way, she learns that her first ride is free as long as she shows her tits. One thing leads to another and, the next thing you know, she has her stockinged legs wrapped around his neck.
In a more comedic Fake Taxi clip, an English time-traveler from the 1950s is underfunded when she gets to her destination. To pay for her ride, she has to ride the driver, so off come the glasses and pink cardigan as she enters modern times. The head she gives is awkward, but oh does she moan when drilled. It ends with a handjob and facial cumshot.
In one of the videos on the Fake Cop site, the evocatively named Kathy Fuckdoll gets arrested for driving without a license. How does she get out of this mess? Simple: she disrobes and masturbates in the back seat of the cop car until the arresting officer gives in and fucks her.
In another Fake Cop video, a tweezed, tanned looker named Chantelle Fox is given a free lift by a neighborhood patrol officer. Some flirty banter ensues and within minutes she's flashing her thronged ass in his face. Eventually, we get close-ups of him grinding both of her holes in a messy backseat romp.
In one of the highlights from the Fake Driving School site, olive-skinned boob queen Chloe Lamour shows her assets in a plunging pink bodysuit and shorts. Even though she's supposed to be there for a driving lesson, she's more interested in having her boobs worshiped.
She welcomes (encourages!) his distraction and leads his hand to the prize. Fool's mate. He plants his face where all men would like to go (and many probably have.) He then deep double-fingers her and fucks her in various positions as her moans fill up the town. It ends with a titty fucking. This was not acting; she loved it more than anyone.
On the Fake Hostel site, we get some two-girl action in Role Play Gone Wrong, where a sex prank gets foiled by a taser-wielding roommate in a case of mistaken identity. Upon learning that the guy she incapacitates is actually her roommate's boyfriend, the two girls try to revive him with a double-blowjob. Naturally, he awakes thinking he's died and gone to heaven.
On the Fake Agent site, European girls are interviewed on a couch by casting agents. The girls think they're there for modeling or acting but are ultimately talked into nudity and porn. If you don't mind subtitles, the main Fake Agent features hotties like Hungarian babe Amirah Adara.
There's also a Fake Agent UK site, where the casting couch girls speak English. In Cute Blonde MILF Loves to Fuck, nympho Tara Spades flat out states that she wants to make fuck films. After flashing her assets before the camera, Mr. Happy takes advantage of the hole in her pantyhose.
Features on Porn Hub Channels
A lot of the videos in the Fake Hub cluster of porn sites are apparently filmed in Continental Europe, hence the thick accents and foreign languages. In videos where the girl does not speak English, the dialogue is subtitled for UK, North American and Australian viewers.
On each of the Hub sites, you'll see a navigation bar at the top of the screen with buttons that will take you to the search directories for videos and categories. When you click on "Videos," you'll be taken to the first of more than 630 pages of preview thumbnails. There are six previews per page, some dating as far back as 2011.
Under "Categories," you can search the sites for videos that include popular themes like big tits, teen, creampie, anal, Asian, MILF, lesbian, blond, massage and a whole lot more.
Under "Sites," you can click to 11 different sites under the Hub umbrella, including Female Agent, Female Fake Taxi and Fake Agent UK.
Hub Membership for Multiple Sites
When you buy a membership on Fake Hub, you will get daily updates to multiple Hub sites. There are four basic membership plans on offer.
For the newbie on a budget, there's the two-day membership at $1 per day. Chances are, you'll like the sites so much that you'll refuse to cancel. After the two days are up, you'll be rebilled at $39.99 every 30 days until you cancel.
The cheapest deal for ongoing access is the monthly membership at $29.99, which is rebilled monthly at that rate until you cancel. With this plan, you'll be $10 richer each month than if you let the two-day deal lapse into a monthly membership.
If you're looking to save money in the long run, you could buy the three-month plan at $19.99 per month. This will save you $10 per month off the regular monthly plan. However, you'll need to pay the combined three months upfront, bringing the payment to $59.99. This charge will reoccur every three months until you cancel.
If you see yourself as a long-term Hub denizen, you could save $20 off the monthly charges by purchasing the 12-month membership at $9.16 per month. However, you will need to pay the full 12 months upfront for a grand total of $109.99. This charge will reoccur every 365 days until you cancel.
If you purchase a membership plan on the Fake Hub website, you agree to their customer terms and conditions. Payments are accepted via credit card and check. Each payment is handled by Probiller and shows up anonymously as Mbi-Probiller.com on your account statements. Fake Hub is a trademark of Really Useful Ltd., all rights reserved.