Get the 411 on Camster.com Live Cam Girls
That night, nine months ago, was a night of ridiculous binge-drinking. And I had no girlfriend. Such a bummer, right?!
I went to my usual rescue, the local strip club. No big issue, right?! Wrong!! I went wild at that time. There was a new stripper in town and boy was she hot!
Next morning, I woke up with a horrible hangover. Then, I nervously pulled up my laptop and started searching about STDs and strippers. 
To my already-scared soul, Google returned back with the results that included
this article on sexual health risks
in strip clubs. I immediately drove to the nearest hospital and got tested. Luckily, no STD. 
Then, I decided to stop visiting clubs and find an alternative. After a lot of searching, I stumbled across Camster.com.
Camster seemed like a cheap alternative to the strip club. It had an interactive layout to communicate with the girl when you're chatting live. And the general token prices and 120 free credits completely lured me in. I needed to know more about camster. I just needed to know!
So, what is Camster?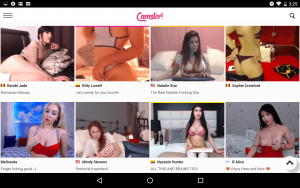 Camster is kind of a hybrid cam site. They claim to be an adult cam social network. They offer all the basic cam site features along with some premium ones as well. 
Once you get to their website, you will see all the online models. After a good bit of searching, you can proceed with the model that fits your taste. Camster.com lets you watch the public shows for free.
However, if you want some extra fun, you must try out the private shows. To do that, you have to buy credits. 
The price of a private show varies from model to model. An average-looking model might charge you 20-50 points. On the other hand, super-hot camster girls may demand around 200 points.
But, hey, it's still cheaper than what you pay at strip clubs. Moreover, you will have all kinds of safety and privacy here. Apart from these basic things, there are many more premium features. We will go through them later down this review.
Why would one choose a live cam site like Camster.com?
Honestly, there are tons of reasons to prefer a cam site over porn websites. With pornos, what do you usually get?! The same old practice of people having sex.
A cam site offers you much more than that. You can have a camster model obey your commands. How cool is that?! Tip her well and she'll do almost every nasty thing you ask for. 
At camsters.com, you can watch solo models, lesbian action, groupies, and much more. If you're into men and transgenders, they have them too. But, that's not my thing, so I didn't bother to check them out.
Now, I am completely away from porn websites and strip clubs. Tbh, a cam site lets you have a personalized experience hot chicks. I don't stress over not having a gf anymore. Screw relationships! 
Some sexy adult social things Camster has to offer
Alright, let's talk about the meat of Camsters.com. As I said before, you can find all the top features of a cam site and Camster. Plus, they have some sexy ass models too. Why not discuss them now!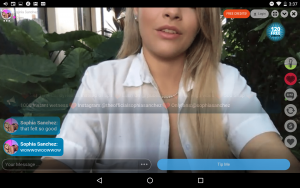 Camster  – Sex Cam Girls - How good are they?!
I'm not gonna lie. If you are expecting every camster girl to be as hot as Kate Upton or Gigi Hadid, you will be disappointed. Actually, don't you think that it's too much to expect?!
However, this cam site has a wide variety of cam models. They range from ok-looking to super-hot. Well, the super-hot models are obviously lesser in numbers. But again, what I find sexy might not be your thing and vice-versa.
While talking about cam girls, you need to focus on their hotness and personality as well. The girls at this site have good personalities overall. I will leave the hotness factor to you. 
The camsrer models are very eager to please you. The more you tip the better the service will be. It's a no-brainer, isn't it?!
This site features an advanced search mechanism. With that, you can find models with specific features. Do you like girls with big tits, you can have them. What about, models with big asses? Just click on the filter and you shall see them. 
See, you will not enjoy a cam show when the girl is straight up bland and boring even she's smoking hot. At the same time, you would need some hotness as well. So, browse through a few models, watch their free public show and decide.  
How slutty can sex cams get with Camster.com?!
Pretty slutty, I must say! The models at this site are very curious to satisfy your requirements. Tip them now and then, you will be good to do. 
Like similar other cam sites, Camster com also is compatible with Lovense and Feel Connect toys. Believe me, these gadgets take your experience to a whole new level. Wait, what?! You don't know what these toys are?!
Well, let me throw some light! Lovense and Feel Connect toys let you stimulate the model. The girls place them in their pussies and then the fun begins. These toys work based on Bluetooth technology. 
You can tip and activate this sex toy. The activated toy vibrates and arouses the girl. The more you tip, the longer the vibration is going to be. It's so much fun to see a girl moving in immense sexual pleasure. I usually fap when I do this and it's so much better than jerking off to porn. 
What kinda shows can you get into with a free account?
Back in the days, cam sites used to offer live streams of girls and nothing else. Now, they have evolved a lot in the past few years. Camstet has a wide range of shows you can enjoy. The price, obviously varies for each. 
The Standard show lets you access a one-on-one video chat with the model of your choice. You should start with this basic show and see how you feel about the experience. It costs you about 30-60 points per minute.
Once you start liking the new-found experience, it's time to move to the next level. Premiere chat show allows you to have a private video chat with premiere models. This camster chat is exclusively between you and performer, where she does nothing else than entertaining you. This chat type uses the best quality video service. 
If you like to watch two or models having fun, Multi-user show is the way to go. In this chat mode, girls typically chat with multiple customers in private mode.
If you're looking for a discount, look no further and join the Combo or Feature shows. Combo shows let split the cost with other customers. Whereas, the feature shows come with discounts. If you're a VIP member (more on this later), feature shows are totally free to access.
For someone who likes to watch slutty girls and have banter with others at the same time, Group chat is the way to go. The casmter model sets a price for the show. The members can contribute as much as they would like to, thus meeting the required amount as a group.
Do you like bargaining?! I do too. Not only I get to save some money, I do it for the excitement it gives me. The Camsyer Offered Shows let you negotiate the price with a model. Cool feature, right?!
What's all the hype about Camsters VIP membership?
While I was regularly enjoying private cam shows at camstrr, one day, I received a promotional email. Until then, I didn't know that they offer a VIP membership. But again, I thought that it was simply an over-priced option.
Then, I remembered what my old man once said to me, "Never judge something when you haven't tried it". I guess he just reiterated the 'Never judge a book' quote and claimed it his own, lol. 
Anyhow, I decided to try out the VIP membership. After all, it costed me only 39.95 bucks. 
After getting into the VIP club, I realized that I was missing out on a lot. This premium membership gave me access to all the recorded shows, long features shows, and VIP only promos. 
Along with those benefits, you can also get a 5% discount on every video purchase. Btw, you will also get access to 200 free videos daily. This membership gets you 150 credits every month for free of cost. Some other VIP membership features are:
Some other cool Camester features you might like…
Tbh, it's quite difficult to cover all the camster cam features in a single review. Since we've already discussed the prominent features, now it's time to talk about some lesser-known features. 
Camster Games:
The Camster adult social network lets you earn points through their games. They developed this system to recognize valuable and active users and reward them.
You can gain free points for different types of activities. For example, if you stay on their platform for two consecutive hours, you will be rewarded with 60 points.
Likewise, you will make 60 points for participating in a model's chatroom for an hour. 
Referrals & Rewards:
Short on cash and unable to buy credits?! No Problemo! You don't always have to spend money to buy credits. You can earn 50 points for every person you refer to the platform. If you're a VIP person, you will make 100 points for doing the same. 
Performer Deals:
Some camster webcam models offer deals, with which you can get bonus show time. You can visit the deals page and see all the girls offering discounts. 
Is Camster worth your hard-earned money?!
Simply put, Yes it is. They have all the key features in place. The video quality is great. At any given time of the day, you will have a minimum of 200 models online. The models are very enthusiastic to please you. There's just one thing that I would want to change. It will be great to have more super-hot models than what they have now. Other than that, Camster is a pretty dope adult cam website.