Slide on your 3D glasses like you slide in a purchased hot wet vagina. Watch her pull out those extra-large juicy breastesses and play the bongos using her pointy black tits as the drum sticks. Those lush lips suck a rubber dildo like an iced-cold Popsicle on a scorching hot day. Two lesbian chicks are getting it on with double penetrated pink remote Lovense vibrators inside their vaginal cavities. This is happening early on a weekend morning. Saturday now feels more like Christmas for me.
What is Bongacams? Ask the obvious, why don't cha'?
Bongamodels stream their sex videos live. There is a variety, but many are lazy today. They are not as energetic as the ones on the most popular live cam sites like LiveJasmin. However, Bongacams is the best choice for thrifty guys who need to save a couple of bucks for quick, easy, and affordable beating sessions with cam girls.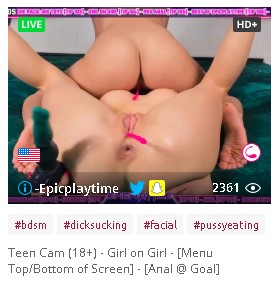 Do something, pretty please!
I hate to admit this. I'm bored as shit. These cam girls lack entertainment value. Out of 1400+ online cams broadcasting footage on any given day, is this the best bonga cam models can produce? Like, come on, man! Some men, women, couples, and trannies would play with themselves with empty eyes. Like they are fish out of water completely new to this. As if they are afraid of a live studio audience. This is not a sitcom! It's a sit-cum! No moaning, no noises, no nothing. The only thing I hear is some damn Robin Thicke blasts through the speakers in the background. I'm crip walking to the tunes. Do something other than watching me dance from the song playing on the live Dj! Let me tell you the benefit in that, though. The audio is high-quality like Bose and sounds realistic.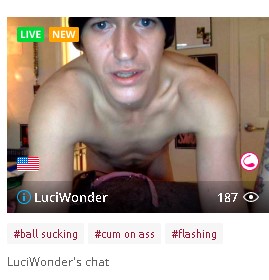 Let's be fair. Some of the models are very entertaining. These are the chat rooms with thousands of viewers salivating like hungry, thirsty ravaging K9s. Look for the eye-con and counters with the numbers are the best chatrooms to chill in. That's one of the reasons I opt out for live sex websites like MyFreeCams. At least the women talk while playing with themselves on there. Make a note of that to all amateur models. I understand that I can watch these bongabonga live cams for free, but dammit, do something - make it wine, gurl!
Bongacams com features that assist beating your meater
Voyeurism
When the internet was not around peeping in on someone having sex was a challenge. It required climbing high in a tree and scoping inside a window of the girl-next-door. There were many risks involved like falling out of the tree, breaking your leg, or getting hit by a car (like in the Back to the Future movie), or even worse - getting caught by the local authorities. Bongacams has a Spy Mode to join the group chat online. You can peep at what a cam girl is doing; however, the preview is freakin' blurred out. At least I can see the sexual position she is in. Everything operational on this website goes back to the tokens. They are required to see the video in full and clear. This is the best, safest way to become a voyeur/peeping Tom in the 21st century.
Sausage shower by the hour
Speaking of voyeurism. There is a sausage party happening this weekend. You're invited. It takes place on Bongacams.com where you can legally show your sausage in a private chatroom to the model if you have deposited her some tokens.
Tracking financial expenses
If you have ever hit the casino floor with cash spilling out your pocket, but leave with lint hours later, then you know the ease of losing money a large sum of money and wondering where has it vanished. Bongacams has a credit tracker that helps you keep calculate how much you are spending daily, so you will never go overboard and break the bank. I'm sure you do not want your wife to find out where the kid's Christmas money has gone. Not cool!
Tag, you're it
Tags and hashtags will bring up only the list of cams of girls performing that sex act. If it's blowjob, then you will likely see a dildo sucking show. There are plenty of porn genre categories to tag something particular.
Privacy, please
Who wants to pull out their dick swords and battle a bunch of horny guys in the chat room for the attention of the princess? There is only one solution to keeping the peace. Taking her to a private show will cut the bullshit. You can have the girl all to yourself to do the freaky things that you fantasy about in a wet dream. It's kinda like you both are in a Jacuzzi sharing a honeymoon suite alone.
Hundreds of sex categories online at
bonga cams
Sex categories mean everything when that hedonistic part of your brain takes control in need sexual nourishment now! Here are all the groups that will select and show a model list in alphabetical order:



Anal play



Asian



BBW



Babes



Big butt



Big tits



Blonde



Bondage



Brunette



College girls



Curvy



Ebony



Foot Fetish



Granny



Group Sex



Hairy pussy



Housewives



Huge Tits



Latina



Lesbian



Mature



Medium tits



Muscle



Petite Body



Pornstar



Pregnant



Redhead



Shaved pussy



Small tits



Smoking



Squirt



Teens 18+



Toys



White Girls
Does Bongacams have bots?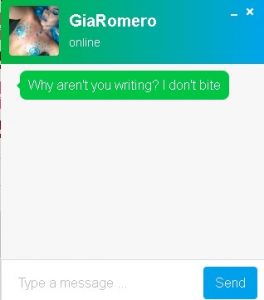 No way, José! The Bonga models performing for tips are 100% real girls, boys, and couples. However, a window allegedly sent from the model pop-ups asking a random question the moment you enter the chatroom. It would be impossible for the model to type this message because she is too busy shoving a dildo inside their furburger. My order's next! However, the model does respond when you type in the chatroom and give tips. Final conclusion. There are not any bots on Bongacams. But there are automated messages sent to you on behalf of the real models.
Stylish page layout that makes all buttons easily accessible

I'm a sucker for style. Bongacams have a good-looking page layout. It's something that I can view daily and get around effortlessly. There is no confusion about the navigation, how to deposit tokens, where to type messages, and things like that. It's perfect for preventing using brainpower to find your way around when you got a handful of cockmeat and trying to stay focused on tipping the tits and ass bulging out the screen in front of you.
Cheapest cam sex that you can find on the internet
Some of us who are cheap asses like to save money for the best services. Take a trip to Las Vegas with only $500 in your pocket or Disneyland with some coupons and gift cards. You would not have a good time. Bongacams.com is a different luxury experience for a low price. It allows you to save money and still have a good time without feeling guilty for being a cheapskate.
Here are some promotions that you can take advantage see on the top page:



Free tokens - Get 25 to 200 free tokens if you spend the most money on a cam slut for that day. There are few winners in this category from what I can see. You have a great chance to enter in first place and become the 'king'



Refer friends - Think about that for a second. You can become a porn recruiter. Grab a couple of your buddies and refer them to BC and get blessed with 50% of all their purchases. You can have cam girls doing everything imaginable if you play your cards correctly.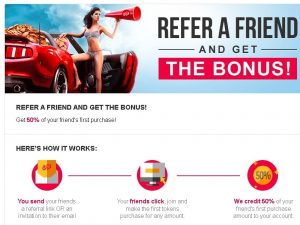 Gift cards - This deal is not really a good one, but still worth a mention. Bongacam.com gives a $5 gift card upon you spending more than $200 in real money on tokens. However, the rules are unclear about which stores the gift card will apply.
Token values transfer to cash



36 - $2.99



112 - $7.99



288 - $19.99



511 - $29.99



906  - $49.99



1363 - $74.99
Bongacams VIP free tokens web giveaways
Step right up to the front of the carnival line and grab your freebies. Bongacams is always giving away 10 free tokens for all new members. That offer is pretty much a staple on the website. This price is only honored after a manual email confirmation. You can choose whether you want to give this information or not. 10 tokens might not seem like much, but something is better than nada. If 10 free tokens do not make your penis jump, Bonga will hit you with something higher. If you surf the site long enough (usually 5 minutes), you will see the ad. It features a half-naked cheerleader eating strawberries seductively from a silver platter. It supports two champagne glasses. The offer for 100 free tokens is above. That sounds like a better deal to me! You might get a boob flash or a feet show with that. If you got better shit to do and decide to ignore that pop-up, then another one with a better deal will make itself known. That one is for 1000 tokens. These advertisements draw you to their erotic satisfaction. They got me hooked already!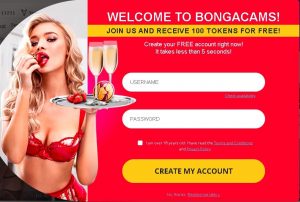 Bongocam claims it only takes 5 seconds to login and create an account with a username and a complex password. There is another giveaway to enter a spot to get 100 free tokens. The requirements for the entry is to chat with the model, play a Wheel of Fortune game with her, change the Dj tunes, and play the Slot machine. Do this once a day.
How to Pay!



Skrill - This is one of the most popular methods to pay for online video chat sex if you live overseas. United States citizens might have problems signing up. I tried my damndest to get Skrill. I copied and uploaded all the identifying documents like my passport photo, social security card, and everything else they needed. Are these people trying to jack my identity or something? And I still don't have an account. About a year ago, Bongacams advertised the acceptance of Skrill. But trust and believe, it's not worth the bullshit you will endure.



PayPal - PayPal approving a cam site speaks volumes. The company will not process payments to a cam site that has risky payment cycles. That is evidence Bongacams is 100% legit



Credits cards - MasterCard, Visa, JCB



Cryotocurrency - Accept the major names like Bitcoin, Litecoin, and Ethereum from your Coinbase account.
You are given a choice to process through SegPay, Epoch, or LPB.
Mobile applications for private chat masturbation
Many porn users love to watch porn on their mobile smartphones through the app. Bonga live sex cam has a downloadable application designed for iOS Apple iPhones and iPads and Google Android LG and SamSung mobile smartphones. Download it straight from the website or APKPure. It works great! 
If you are not a download-head or unfamiliar with the process, the browser works as good as the app. It is also compatible for Windows and Blackberry devices. Contact Bongacams support for help involving the app. Right reserved.