Listen here. I love sluts. I do. I am fond of one-on-one roulette webcam sex chats. It's what I do in my spare time. What chaps my ass is fake cams. Really fake cams. I'm sorry for stating the obvious, but Slutroulette has some of the fakest cams known to man. SlutrouletteLIVE, yet, has some of the realest live chat cams on the internet. Which one do you choose to spend your spare time wacking off?
Q: What is Slutroulette? A: Adult naked nude streams

Slutroulette picks a cam from a long list of potentials and connects you with one. Usually, you will talk with that person until the conversation gets boring. Then, you hit Next to get connected with someone else.
Slutroullette coins itself as the "Adult Chatroulette". I do not see how that works out. Here is the difference. Chatroulette has real cams from real people. Slutroulette does not. Yet, Slutroulette
LIVE
does have real hot girls looking for those magical golden coins. Give them in a private chat that charges per minute. It pushes them to pop their pussies like they're giving birth. Will you become her special little lucky charm on this platform?
Fake cams are everywhere
Fake cams here. Fake cams there. Fake cams are everywhere on Slutroulette. Too bad all those millions of views per month are in vain. I guess people realized what I have - Slutroulette is FOS.
I operate a high-performing Lenovo CPU with a built-in 2.8GHz intel core i7 processor and 8GB of ram. I don't even know what all this technical shit means. I'm reading the brochure! All I know is that it has excellent navigational capabilities along with a high-quality camera that I am French-kissing right now. SlutRoulette shattered my foreplay with an automated message that says the website could not detect my cam. Oh ok, let me pull my lips off. That is a crock of shit! Is this some type of marketing ploy to get me to sign up for an account profile or sign in with my Google credentials to get my sensitive information? NO to Big Brother tactics!
I will say that Slutroulette has real roulette cams from other websites for you to enjoy if you can get past those annoying popup ads. The cam would load, and you will see some big boobs pop up in your face. Oh, I know this girl. It's 22-year old
PinkLipz
. But you cannot talk to her through this website. You need to head over to Slutroulette
LIVE
to find the model who you just saw, but you need to type in her name. Hopefully, you have a good memory.
Popups are everywhere
I have an infectious rage for pop up ads. Slutroulette has too many of them. You get hit with a pop up after pop up upon entering, during the surfing process, and even when you log off - you might have wet dreams of them. The message is a reminder to set up a valid email address and password to get that premium account. I'm cool. I like free shit. Another pop up that burns my soul is the constant notification about the latest news and updates. Nope, I'm cool on that too. #FakeNews. You're in luck, though. Slutroulette
LIVE
does not have any of these pops up on any of the pages.
How does the Slutroulette online porno search work?
It works identical to any other adult interactive live cam sites - if you can get past the fake page that sends robotic chat messages.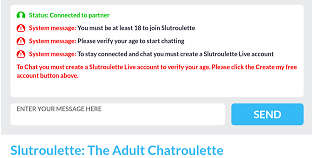 However, there are porn categories on the side of that message screen to click. The window has to be on a full screen to see the entire list. The choices are
MILFS, lesbian, BDSM, big tits, shemale, ebony, pregnant
, just to name a few. When you click
Browse New Girls
or
Create Account
is when the Slutroulette
LIVE
website makes its grand appearance. There are way more porn genres to choose on the live site.
Differentiate the difference between Slutroulette & SlutRouletteLive
Thank me later for being an avid reader. I'll take all donations at the door. I actually learned from another adult porn website that Slutroulette and Slutroulette
LIVE
are different companies. One supposedly does not have anything to do with the other. Good job trying to shun responsibility away from those fake cams Slutroulette
LIVE
. I wouldn't want to be associated with that neither. They both seem to work closely together. One major difference is that Slutroulette has random cams of guys and gays. Slutroulette
LIVE
does not. I think I'm rollin' with the straight one.
SlutrouletteLive girls and the non-random search engine
Slutroulette
LIVE
has the genuine cams that are sorted by your choice of age, languages, and the regions they reside. Check out some of her offerings in the Tip menu and see if they interest you. Many of the actions are worth the prices. Maybe, its a boob flash, feet show, Twerkingbaby butt, or something more naughty and raunchy like BDSM. Make your choice wisely, naughty user.
Best profile information thus far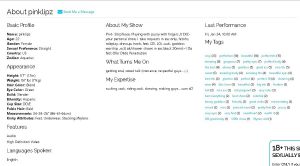 The
live chat roulette cam girls profiles are informational. You can get to know and see the models for who they truly are. The first thing I noticed was Send Me a Message. So, I complied. Then I saw basic info like her zodiac sign and location. Some details the content of her shows and her tastes in bed. There is a whole list of appearance features and a bunch of tags of the stuff she is willing to do. Good girl! 
Where did Slutroulette live cams come from?
The beginning stages were due to suffering from a bad case of Chatroulette jealousy. Those adult chatrooms launched in November 2009, and has taken the world by storm. Everybody was broadcasting their dirty live cams. People have made careers out of recording their interactions with random hotties. Even Tosh.O did a segment on the notorious CR. About a year or so later, Slutroulette stepped on the scene in high heel stilettos wanting CR dirty roulette users to look their way. People came, but when they realized the cams are fake, they left, but some stayed when they discovered the truth on Slutroulette
LIVE
. Surprisingly, Slutroulette has surpassed Chatroulette in views. Popularity is the only reason the site is still relevant.
I did the sign-up, gave my credit card info, and got charged
My curiosity got the best of me - a big mistake to make on live cam sites. Slutroulette does businesses with other websites because when you sign up for one, your details are given to another. If any one of the pages claim no charges after entering your credit card information, think again. That money will get taken like Liam Neeson. You would need to apply extensive investigative measures on the customer service live chat line for a minimum of 5 minutes to rescue your funds. The pressure feels like Neo stuck in the Matrix. However, only one of my credit cards were accepted. The other ones got rejected.
Slutroulette mobile app test
I tested the mobile browser app briefly. The website does not work well. The cams on Slutroulette stay loading and takes time to pop on. Slutroulette
LIVE
does not lag, but the stream freezes periodically.
The quality of girls improved, yea!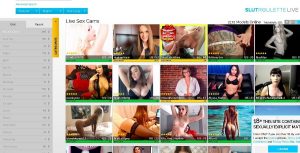 SR must have read one of my previous reviews because the girl quality have improved. They are not homemade amateurs anymore. They are real women this time around. I guess the popularity is drawing many more sexy women, but some of them still look rough around the edges. The viewership is still very low, though. WTF SR is promising these women? Some cam chats have single-digit viewers. I also noticed the models provide more entertainment. You know the routine, though. They still play that weird ass music that is hard to listen while jacking off. However, I can tell they have taken a few pages out of the Chatroulette and MyFreecams instruction booklets. I see what you're doing SR.
Chat webcam model language changes
There are bilingual women who speak English and Spanish. Spanish and Portuguese. Thai and Chinese. Many do, however, speak English. You can change the setting to show performers who only speak a certain language.



English



Spanish



German



Italian



French



Dutch
There are many more. You would need to change the location in the region bracket to find women who speak your language.
The Slut Roulette Porn App Summary
Thank you very much for making it to the end. Now, you will battle the big boss - the summary.
I hate to say, but you need to think very carefully about your usage of Slutroulette. It's the Omegle adult version, but with fake cams. Slutroulette
LIVE
is a good site to use. However, Slutroulette is not worth the time. There are better live cam sites below.