What is SkyPrivate? | A Great NSFW411 Members Review
What's that falling from the sky? Do you see it? Look up. Take a guess, man. It's a newer website called SkyPrivate. The past two hours, I had this website in my mind because I visited it once earlier and stayed obsessed ever since. So, my job today is to help you in your quest to find a Skype sex show with no strings attached. I decided to package my meat, stop my masturbatory festivities, and endure the grueling tasks of writing this great review article. Bih, pay me!
Listen here, boy. I might need to school you. Let's complete a brief breakdown of the etymology of the word 'SkyPrivate'. Sky is a shorter version of Skype. The written code traces back to 2001 AD until about 2003 AD when the domain registered as Skype.com. Private, as you can imagine (usually refers to the penis), comes from the Latin term 'privatus', which means to get 'withdrawn from public life.' Used in a sentence - "Let's take those Skype bitches private!"
SkyPrivate connects users with models through the Skype or Discord webcam programs for a 1 on 1 pay show. Many adult entertainment live cam performers of the 20th century use Skype independently to do adult shows for gift cards, PayPal cash, or CashApp money. Since the creation of internet porn, where rights reserved for users who have the money to pay to see xxx content, the word 'free' has become more valuable than ever. People naturally expect porn to be free. Therefore, there will always be a risk for models giving a show online for users who might not pay. So, websites like Skyprivate step in as the slick middle man and bridge the gap between them and the horny ass users.
SkyPrivate fueled their rocketship and launched in 2013. A guy would spend countless hours making a call to find a Skype ID for a woman doing a show back then. He would need to search through Twitter, Facebook, or pay on OnlyFans or Fancentro for more Skype IDs. The last thing a peter whacker wants to do is work unless it's jerking off. Skyprivate eliminates the need for labor.
Right now, as we speak, there are approximately 17000 Skype cameras broadcasting worldwide, featuring guys, girls, and trans individuals. They have their accounts set up to accept live webcam shows, a phone sex call, or sexting at any time of the day. Members can pay per minute for 24/7, 365 unlimited access to camgirl Skype entertainment.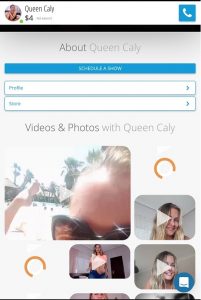 How do the SkyPrivate members account services work?
Each service provider has a detailed description of Skype sex-cam sites content they offer to adult users. All the profile pics are listed in a large gallery with the most premium models at the head of the class. They are the ones who charge expensive prices per minute, usually. Photos with a small green circle planted in the left hand corner are the ones currently online and ready to do a show. Going to the last pages will present the models that are not online at the moment, but they might have some unique talents you'd like to see.
There is an option to use your Skype ID as you sign up. I chose a Skype ID account that I never use because I avoid mixing business with pleasure. I suggest that you always have more than one Skype IDs - one for work and one for play. Your chosen account connects to the model's Skye ID to activate services.
Click on any member profile, and you will view all the relevant information about the person. I chose QueenCaly because she was first on the list. She must have something special to offer, I figure. Her services must be premium if the price is set at $4 per minute. Either her show can rival the Ringling Bros circus, or her ego is blown out of proportion.
Scroll further down the list and flip to latter pages to see the women who charge $1 per minute. That seems like a better deal to me!
From this account page is an option to schedule a private cam show that will start at your leisure. Hopefully, she is online at the same time as you both agreed.
SkyPrivate review for pay per minute for Skype ID cam site sex  
When you conduct business and negotiate prices for a Skype show in private, away from a surrogate site, the models might tell you they only accept one type of payment. The model might suggest using CashApp to get her payments instead; however, you might only have a PayPal account. It becomes a conundrum. One major problem doing Skype ID business on an independent level outside a medium like Sky Private com is the potential of getting double-crossed out of some money. Scam models might take the cash upfront and neglect to do a show. On the flip side, a guy might ask for a show first and make a run with the money when it's over. SkyPrivate cuts out the potential bullshit boasted on both sides for a peaceful resolution.
SkyPrivate review for profile account description information
The internet has created an easy way to find out anything about anyone. All you need is their data that will open the Pandora's box to everything else. After getting the pay-per-minute information squared away, now it's time to look at the profile for the models you would like to get a show from. The following pieces of information will show on their account pages, letting you know what type of model you are taking private for a show. This information might not be available if the girl is going the independent route. Therefore, the person could be a whole tranny featured on Drag Race's Nicki Minaj edition, and you won't even know. Setting traps ain't cool. SkyPrivate cuts the bullshit and simplifies the data to zero in on features you only want to see.




Location





Height





Weight





Eye color




Hair color




Language





Age





Breast size





Constitution




Sexual orientation




Social media accounts





Categories





Tags




Rating system
SkyPrivate review for searchable sex cam members categories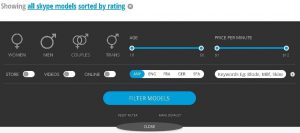 It might be confusing where to find the searchable content. I got it! It's located where the blue button says Live Cam Girls on the homepage. Click that, and the page goes to All Skype Models. Below that, are the Top Models, New Models, and High-Rated Models. Click on either one to bring up the relevance. Next to that is the Filter Models sections that pulls up the stuff you really want to see. Here are the following parameters discussed:



Sex - Male, Female, Couples, Trans



Age - 18 to 60



Store available



Videos available



Online now



Language - English, 

Russia, 

Romania, 

Spanish




Price per minute - $1 to $12



Keywords search box
Skyprivate review for phone sexing and sexting texting
Some guys are self-conscious about their appearance and prefer not to show their faces to the models. Have no fear because staying anonymous like the hackers is here! Skyprivate has a mobile app that exclusively supports talking and texting. The user interface is set up just like a regular smartphone. You can talk your ass off without looking at the models, but you will know exactly how she looks from her Skype ID profile. It's 100% legit shit! If talking is not your forte, then texting is a great alternative.
SkyPrivate review for buy something from the SkyPrivate com store
Each model has a store for you to buy her goodies. Most of the stores likely have a gallery of videos from her sexy ass Skype shows. That way, you see your favorite model anytime instead of paying the price per minute, which can total thousands of dollars over time.
SkyPrivate review for real girls all the time to share and review
These are real girls - no bots. Videos are real. Sexy than a mug too. Most videos look 4K. Preview footage at the beginning lets you know this is for real. The entire list shows the new models who just came on the scene, along with the most recently visited ones. They have the same type of videos too.
SkyPrivate review sign up for an account as a model, member, or studio
Model - This is the option for independent users who decide they want to perform live cam shows through Skype or Discord directly for themselves. It's open for the people who do not have a manager or employees working for them.
Member - This option is available for people like me: horny guys who want to see the Skype shows.  
Studio - This option is for business entities that have multiple performers working as legal employees for their company.
SkyPrivate review for customer support do's and dont's
Listen to me carefully: although SkyPrivate has a multi-faceted support system, don't ask questions about SkyPrivate to Skype.com. Skype.com will look at you like you're crazy. They are different companies. SkyPrivate will not deduct credits from your Skype.com account, and Skype.com will not deduct credits from your SkyPrivate account.
SkyPrivate review for getting that cash flow to models willing to shake that asshole
Working for SkyPrivate can be a lucrative business venture for anyone who has great potential to do live sex shows. Models' paychecks will calculate about 75% of their money, which is a pretty good amount compared to live cam sites that take almost half the cash. The only difference is that this website does not have a large customer base like, say, LiveJasmin. But the cut going to be bigger if you get loyal viewers. Another benefit is that SkyPrivate has an affiliate program for adult website owners out there. Submit an application and try your luck at advertising.
SkyPrivate review: do I trust it?
I gotta measure several factors to make that determination. Ask me when my erotic haze subsides. Everything goes back to the internet. Some members say not to trust SkyPrivate. If the model does not perform, there is no way to get your money back. It's gone forever. I've come to realize through research that the members are referring to the plug-in issues. Sometimes the SkyPrivate plug-in might have connections issues. The system will still deducts the money. Ahh, I can't roll with that one. So the model does not get the money, and the user does not get the show. Shit happens. Q: Would I trust Skyprivate? A: I would give it a try if I were you!