We've Got the 411 on Cams.com Review!
Wouldn't it be great if you could break from your regular activities for some kinky, no-strings-attached fun? To put work, gaming and social media on pause for some quick, hot jollies with the hottest girls imaginable?
Well now you can, and you don't even have to leave your house! The action is at Cams.com, which brings the following fun into your living room:




Hot, young, busty girls from around the world





Thousands of nude pictures





HD video cams and private chats





Kinks and fetishes in every category





College girls and MILFS of every hair color
Forget bars or expensive dating sites. Cams.com offers video chat, private shows and live cam action with super-hot models from around the world.
Live Sex Porn Cams
When I click on Cams.com, the first things I notice are tables of hot girls and a long list of filters on the left. You can filter the girls by their age, ethnicity, hair color, kinks and body type. You can even filter them by the types of shows they're willing to do in private.
At the top of the screen, Cams.com lists the number of models that are online at any given time. Just now as I look, the number is 609. Not bad for 6:30 pm on a Monday night! Best of all, most of these girls are high quality. As I scroll down the tables, there's not a fatty or bony bitch in sight. It's no wonder why this site gets such great reviews compared to other cam sites.
Free Web Cams with College Girls and MILFs
As I scroll up and down the default page of Cams.com, I'm taken by the high-quality images of the girls on offer. Across the top row, I spot a busty blond sucking a lollipop, a tanned redhead playing with her hair, and another busty chick giving a come-hither look into the screen.
The Cams.com page refreshes every few minutes as girls log on and off the site. Upon refresh, I notice this one brunette MILF in seamed fishnets. I click on her profile and this loud, obnoxious music starts with her free preview video. Fortunately, there's a volume switch, something that a lot of these sites don't have.
Her video doesn't last long (gotta pay up for that!) but there's plenty to take in on her profile page. I learn that she's 40, Bulgarian, Aries and bisexual. Yes, she speaks English. Scrolling down I see two HD pics of her rocking those fishnets. After right-clicking the first, it loads to my desktop as a 4600 x 2600 gif file. Pretty generous for a freebie!
I return to the front page of the site to see what else is in store. I spot this fully clothed, pixie-haired redhead seated on her sofa with a disinterested look on her face. She seems kinda' tomboyish but I'm intrigued. Just how sexual is she?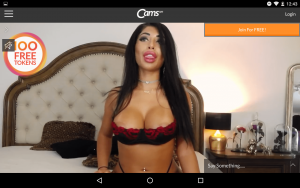 In her preview video, she's reclined on her bed in a black bra and thigh-high fishnets. Her ruby red lips and stenciled features leap out on her alabaster skin. She's quite feminine and beautiful. Scrolling to her profile info, I notice that she lists her sexual preference as "straight." No worries. Her video cleared up any initial doubts I might have had about her sexuality.
She doesn't offer any HD freebie pics, but her profile states that she's done 143 recorded shows and captured 72 photos from her free cams and nude shows. 
Feeling restless, I roam the site for more thrills. I spot a bronzed Romanian Barbie type named Emma, whose preview video and pics are not as interesting as her profile photo. Clicking back a screen, I spot a busty brunette, Hellen, who also turns out to be Romanian. Her preview has her lounging in a teddy and stockings. Much better!
Back on the main site page, the options get overwhelming. I can't decide who I want to see next. The redheaded Asian? The pink-haired punk chick? The innocent-looking teenager with long, curly hair?
After the site refreshes, I spot a leggy brunette named Lana reclined in sheer black stockings. Her photos are the bomb! Round breasts, hourglass figure, low-cut tops. She brings my preview round to a climax.
Most of the girls appear innocent and vanilla in their thumbnails but are actually a lot more flirtatious when you click on their profiles. During a free chat, you can initiate a private video chat and pay per minute.
Live Porn Cams by Category
The site splits the sex cam models onto three pages but you can also choose to view them all at once. On the left side of the screen, you get a long list of filtering options.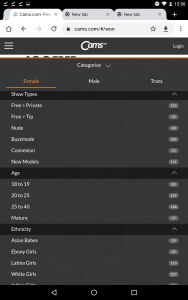 Under "Show Types," the first filter is Buzzmode, which lets you make commands through the toys of more than 300 Cam.com girls. You can also filter site models down to those that offer "Connexion," defined as a two-way session with interactive toys. 
The next filter is for age, where cam girls are divided into four categories: 18 to 19, 20 to 25, 25 to 40, and "Mature." The largest age group is 20 to 25, of which 152 are online as I type this.
Most of the cam girls are white, but the site also has a lot of Latinas, a few Asians, a smaller number of ebonies and a couple of Middle Eastern girls.
Below the ethnicity filter is a list of specialty options like couple, MILF, girl-on-girl and threesomes. The most popular option in this category is "live college girls," which brings up a page of mostly young, solo cam models, plus a few (ahem) outliers. 
The next filter, body type, will probably be the most important for site regulars. They offer six categories: BBW, curvy, petite, big boobs, small boobs, and huge tits."Big beautiful women" are the smallest category. Most of the girls identify as curvy, i.e. brick house. 
The difference between big boobs and huge tits is not so clear. Several cam models come up under both filters. When you first visit the site, you might be alarmed by the high number of girls filed under the small boobs tag. Not to worry, most of these models are generously stacked.
Of equal interest is the kink filter, where you can trim your search results to girls into anal, oral, high heels, vibrators, bondage, or any other fetish that gets you going.
The last of these left-side filters lets you search girls by hair color. In addition to redheads and blondes, Cams.com divides brunettes and raven-haired girls into two separate categories.
Across the upper-right side of the site page, between the signup banner and thumbnails, are pull-down boxes for region and language. You can narrow your search to models from the US or broaden it to the entire English-speaking world. The other regional groupings are Europe, Russia, Asia, Africa, and Central/South America.
If a cam girl strikes your fancy, you might not care about the language she speaks. Then again, you might want to hear some dirty talk that makes sense. The language filter lets you isolate girls that speak English, French, Italian, Spanish, German, Dutch and Portuguese. Many of the models are bilingual.
A word of warning: if you make a request to a girl who can't understand English, you might not get your money's worth, even if she is super hot.
Cams.com Review Web Adult Cams and Live Sex Chat Token Prices Packages
The signup process on Cams.com is a little misleading. In the upper-right corner of every preview cam you will see a round button that says "100 Free Tokens." Click it on and you will get a popup screen that asks you to pick a user name and password. You will have to provide an email address here. For safety, I selected an old one where spam won't matter.
Upon signup, you are brought to a screen that gives you four options: 




$12 for 100 tokens





$26 for 250 tokens





$50 for 500 tokens





$99 for 1000 tokens
The "100 free tokens" are actually given to you as a signup bonus after you pay for one of the four token packages. Below these options are input fields for your payment information. You can pay by credit card or debit card. If you don't want to use your credit card or debit, you can print out the form and pay by fax or mail. 
According to Cams.com, the $50 package is their most popular. Apparently, 500 tokens are enough to get you up, off and out of there.
When you find your favorite sex cam girl, you can use your tokens to buy her virtual gifts. The most popular virtual gift is a kiss, which costs 20 tokens. Other cheap gifts include sundaes, panties, heart balloons, sombreros, Santa hats and gingerbread men, all of which cost 20 tokens. 
Some of the more expensive virtual gifts include birthday cakes, butterflies, rose bouquets and teddy bears, which each cost 100 tokens. The most expensive gifts include a bottle of wine (400 tokens), a wrapped gift box (500 tokens), and a pair of high heels (2000 tokens). 
During a typical free chat, the girl will flirt with you and lots of other guys simultaneously without getting nude. In the private shows and chats, you get to be alone with the girl of your choice. Some girls state their limits on what they'll do on camera while others are open to just about anything.
If you really like a girl, you can join her fan club. If you token her generously, she'll recognize you as one of her top admirers and place an icon next to your name in the chat. You will also get access to exclusive custom videos and unlimited texting. 
Aside from purchasing tokens, you can become a premium member for $19.99 for one month or $13.99 per month for three months. This will get you the following:




10% off on live videos





Five free recorded shows from your favorite model





Email access to all the models





Unlimited access to nude galleries
All in all, a fine deal considering all the 9's and 10's on this babe-packed site.