Say cheese, for the camera, mate! Cam4 is ready to snap your picture because you seem hot and ready, unlike some of the performers on here! Cam4 models, however, aren't fond of the camera because they do not invest in their bodies as they should and they definitely neglect to perform to the best of their abilities. The women are not super professional like those on Chaturbate, but they are doing just enough to get a couple of tokens.
Cam4 review: talking spit to the live cam models
The live cam models are there waiting for you to enter the chat room and chat with them. They have nothing else to do, it seems. They would even type back to you! Each cam model has a country flag on their page representing the land by which they reside. #Salute. Patriotic women I see, or a default feature. Right below the flag is a 5 star rating system indicating whether this cam model is worth your time and money. Of course, the five-star chicks are first in line. And obviously, the five-star hoes give the best performances.
Each camera, on the other hand, has an annoying DMCA protection watermark plastered in front that drives me crazy while masturbating, but I understand the legalities behind having it there. I cannot even get comfortable enough to prepare a proper masturbatory session because there is an internal ad that cannot be blocked by a traditional ad blocker - damn you AdBlockPlus! This internal ad asks me for my login name, password, and to receive updates. You know, the usual shit.
The chatroom looks festive, though, with a lot of stuff going on. Makes me wanna join the party. There are a lot of cool colors, emojis, and memes being sent all the time. I know you wanna join the party! There is a preset tip menu to send
5, 10, 25,
or
50
coins at a time. Make it rain!
One cool ass feature that some viewers benefit from is
multicam
that puts four models on your screen at the same time, so you can watch their live streams without missing a beat.  It's like having a bunch of women in your harem doing every kinky thing you imagine. Cam4 gets an A+ for having that feature.
Cam4 review: a closer look at the models pages
Upon closer examination with my ass-nifying glass, I can see every piece of data during the live cam show. Each pic that introduces the cam model to the world has an icon representing with a girl offers. For example, there's a 4K logo showing a type of camera resolution the model uses. By the way, the quality of most cameras looks absolutely amazing. A visual climax.
Next is the live cam girls gender. There are so many gender classifications in this new millennium that it will have your head spinning. Even little kids are confused about what gender they are. These problems didn't exist in the past. For me, I only see pussies and dicks. And I prefer the first one. However, you can pick different genders on cam4. The major ones are
male, female, trans, and couples
- I don't know if the last one is considered a gender, but it's a category choice, nonetheless.
Trophies icon shows the model viewers like the most. These are the live cam girls who give performances worthy of a standing ovation and round of applause. They have won trophies for their performances, duh. These are the livest and most popular cam site girls on Cam 4 that you can find.
Explore the cam site profiles
You will see all the stuff related to cam site models:



Age



Ethnicity



Gender



Last broadcast



Orientation



Relationship status



Occupation



Body type



Height



Location



Body decoration



Hair color



Eye color



Social media pages



Awards



List of friends



Favorites



Recent comments



Tip menu
Whoa, that's a lot of categories. Has me dizzy!
Type of Cam4 women, men, trans, and couples
Let me tell you what type of people you would find on the cam4 live webcam porn site. First things first, you won't find any extravagant professionals like on LiveJasmin unless you buy gold. The vast majority are just regular cam girls that are not special. Look, for example, I was watching two women play with themselves side-by-side, cam2cam, and their energy did not turn me on whatsoever. I believe the reason for this response is that they were completely uninterested in what they were doing. The moans were forced. The facial expressions were empty. They only looked interested in getting some money. Their screen name was
Sophiehot22
.
As I'm searching through the live site models right now, I instantly noticed that a lot of the models do not talk when they are broadcasting their cams live. That is a sign of being a fuckin' amateur. Some of them don't even play that weird ass techno music, neither, a really bad sign. You mean, yall can't muster up the energy to play the weird music for me to get annoyed by?
They all break down to one common denominator - staying silent. Now, the cam 4 girls and guys who do the premium cam shows, on the other hand, are a whole lot more entertaining to watch. These are the ones that will have your member jumping for joy. So, if you're looking for some entertainment, you got to pay some tokens, baby, and become a premium member. That's how the cookie crumbles. If you don't care about getting the proper visual pleasures that you deserve as a breathing homo sapien, and just want to see the mundane boobs and ass rockin' and popin' in ya' face, then rock out with the free account. But one thing is for sure, the gold membership seems to have a better quality of people.
Cam4 offers review token amount and prices
While you surf the website, you would instantly notice a pop-up ad asking you to buy some tokens. So, if you don't buy any prepare to get used to seeing this screen if you. Purchasing tokens is as easy as purchasing a cheeseburger. Use any major credit card, including American Express (which is not commonly accepted by these websites), PayPal, and even gift cards from Target, Starbucks, or Best Buy (hundreds of retailers) to buy the tokens.



50 tokens for $9.99



100 tokens for $18.99



250 tokens for $44.95 (the most popular option)



500 tokens for $84.95



1000 tokens for $159.99
Each transaction will go through a $2 transaction fee without an upgrade to gold.
Cam4 porn filter to search
Filters, filters, where will we be without them on a live chat site? I need to warn you though, the filters on Cam 4 don't 100%. There are others on sites like MyFreeCams or Chaturbate that are way better than Cam4. Real talk. I became annoyed by the bombarding gay shit that burned my eyes like sun rays from an eclipse. Damn near blinded me. I didn't want to see the shit, but it popped up anyway.
Trending topics and trending cam4cam tags
There are not many websites that have the trending cam feature. Think about all the live cam sites that you have visited, such as XCams, that do have that trending tags filter. Cam4 has them. At the time when this article was written, the trending tags are
blowjob, brunette, teen, anal, and threesome,
just to name a few. I guarantee by the time you come across this article, a year from now, maybe, those tags will still be trending because the male brain doesn't change when it comes to sexuality. We are stuck in our ways. You click and see the most popular cams running at the moment.
Cam4 girls VR sex cam review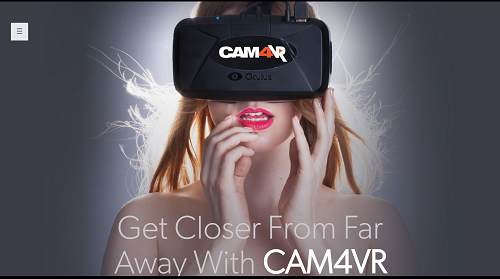 Live
cam sites are stepping into the future by offering VR mode. It brings more interactivity to the user experience. Imagine having the ability to look up and down your favorite live cam girl's room at 180 to 360 degrees as she's performing. Cam4VR will have that pretty soon. What is a better way to experience live webcam sex?
Purchase any of these branded VR goggle headsets, and you're in the virtual reality live cam model game:



Oculus



Vive



SamSung Gear VR



Google Cardboard
It's award time for the live models
Cam4 was the hottest live streaming website in 2015. It won so many awards from prominent porn magazines and companies. I just thought you should know that!
Lovense makes a lot of sense
I love lovense. It makes sense why many live cam websites have this technology system. I love to give women pleasure when I deposit tokens. The moment the system feels the tokens, the woman feels me pulsating inside her pretty little pussy. It makes all the sense in the world to have this wireless Bluetooth vibrator connected to the system. It makes the experience so much better. She can feel me giving her money, which is cool as ever. Feels like being in a strip club or something. There's no better feeling in the world for a woman, trust me. Dollars make em' holla! She has no choice but to moan with passion. I am the king of this castle.
Highly interactive mobile app experience
The cams never lag on the mobile site and they keep playing even when you click off and use another app. Very cool.
Cam4 gives you the time of your life
I love to read the reviews about everything, especially when I'm preparing to buy big-name items. I remember spending almost 2 hours at Walmart buying $1,000 computer because I had the mentality that it was like buying a small car - I needed to invest the time to do the research on the spot. Cam4 allows you to do the research on the spot too. The models profiles go into depth about everything about them. The reviews on each model page shows which ones are worth your time. Trophies are given to the women who are the highest earners. There are so many good things. Therefore, you will always find the most popular cam girls and cam guys. I will have to say Cam4 is a great way to invest your time searching for a good live cam website because every filter gives you the power.