Let's welcome all of you movie buffs to our Mr Skin review. Obviously, you are a horny little devil who gets rock hard when you watch certain sex scenes or nude scenes in movies?
Yeah we've seen them all:
What type of nude scenes are here?




Jim Carrey sucking on a breast in Me, Myself, and Irene





Jennifer Lawrence gets nude in Red Sparrow





Anne Hathaway goes nude in Love & Other Drugs





Elizabeth Berkley gets naked in Showgirls
The list goes on.




Which Hollywood celebrities are featured on this site?





Is the site mobile friendly?





Does this site have sex tapes?
You will discover all of this and more in this Mrskin.com review. 
Are you ready for the lights, camera, and action?
Say cheese!
Mr Skin Review: Hollywood Celebrities Baring it All Like Girls Gone Wild
My, my, Mr. American Pie. Except this time you won't see a dick stuck into a pie. But you can see all the nude scenes from that movie, and trust me, there are tons of them!
Mr Skin is all about nude clips of Hollywood celebrities.
Some of these HD videos are real sex scenes from porn stars. You can view them from the model index. Some are hidden in those side banner ads.
Other HD videos are of your beloved actors or actresses getting nude.
However, one major annoyance about Mr Skin is that you cannot watch anything; no advertisements, no top 5 upskirt videos, or any of these nude clips without signing up for a premium membership, which cost $5 a month, allegedly.
Read the fine print, sir, because it gets super expensive. We'll get into that later.
It seems that MrSkin.com is well worth the price because it took someone a lot of time to meticulously scour these movie scenes and find only the hottest nude clips.
Porn stars don't even possess that type of stamina.
#RESPECT
Mrskin.com Review: Get the Scoop on the Model Index
So I discovered the Model index on Mr Skin doesn't actually show a list of pornstars. It shows a list of different actresses who have gotten nude in movies. So when you click on their name, it will lead you to a page featuring all the movie clips they were in.
And it's a huge collection of over 33,000+. 
The search bar will allow you to locate any particular celebrity nude clip you have an interest in. Mine was Selma Hayek's fine ass. It was easy to locate her.
Luckily, Mr Skin makes it easy to find these celebrity scenes. 
When you actually open up the details about these movies you will not only see the scenes, but you will get general information about the actual film just in case you want to watch it on a Netflix and chill movie might:




1-5 star user rating





Genre of the movie





Director information





Theatrical and home release date





Country setting





Where to purchase the title (Amazon, etc.)





Blog posts related to the title
Therefore, you will actually discover new movies that you might actually want to see.
Additionally, there are tags at the bottom of the movies as well:




Wet





Full nudity





Bouncing breasts





Up skirt





Orgasm





Pool





Breasts
If you are into a particular body part or a particular type of sex scene, you can view movies that only have those things in them. So that means you opened a can of fun content to enjoy. 
What Is Purchasing a Premium Membership Like? (Purchase Proof)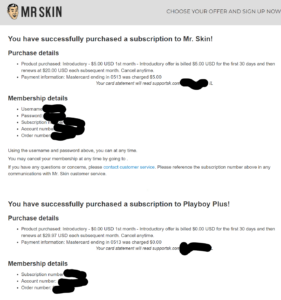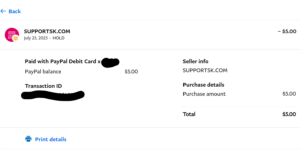 Does Mr Skin really cost $5 a month? 
The answer is yes or no. 
You get the option to choose the best valued membership, which is $5 a month, but you need to pay for the entire 12-month membership up front at $60. However, if you don't have $60 on your card, then you can purchase the first month membership charged at $5 up front but they will rebill at $20 a month.
You slick little motherfuckers, you.
I don't particularly like memberships that are set up like this because obviously, especially if you surf a lot of porn sites, it would be easy to forget that you signed up for this membership and they sneakily siphoned $20 from your account every month. 
Some people notice they money gone from their bank account, but some people don't. 
At least with this one month membership option, which is the most popular on their website, it includes a free month of Playboy Plus. 
In the fine print before you pay, there is a check box about signing up for MetArt for free, but it will continue at the "standard monthly rate".
They don't tell you how much the standard monthly rate will be.
Think about that for a second.
You're signing up for three subscriptions: Mr Skin, PlayBoy Plus, and MetArt. Those memberships automatically rebill monthly. 
If you forget to cancel these membership, say bye bye bye to your money.
It's the same with the Playboy Plus. 
According to the language on the website it seems like they would charge you an extra almost $30 just to stay enrolled in a Playboy Plus membership. 
Not cool.
So essentially, you're dishing out more than $50 a month if you're not paying attention to what you're signing up for.
On the positive note, however, the Comodo security means that your transaction is protected. 
Ultimately, this membership seems affordable at face value, but when you peel off the layers, it is not cheap. 
Payment methods:
When you pay for the premium membership they do not log you in automatically. You need to actually visit these websites and manually sign in with the login details they give you.
You don't choose your own username nor password.
Bummer.
It feels like I'm hit over the head with an avail because when I log into MrSkin, they're still trying to get more money out of me by offering me Playboy TV for extra $4 a month!
Really?
All this money I paid should cover all these extras, obviously, it does not.
One good thing about this membership is that I can move a video clip scene to my Favorites list and watch it later. 
Moreover, I can give my user rating for each clip to let other guys know which ones are good and which ones are not worth their time.
Also, you do Content Request where you can submit a nude scene from a movie to the site owners and they'll evaluate it to see if it's worthy of an upload.
Is Mr Skin Legit or a Scam?
I don't know if this is a coincidence, but I can't even access some of the features in my own account unless I verify and update my information. This includes canceling my subscription. I have a very bad taste in my mouth because of this extra security.
The system says that they do not recognize my web browser or the computer.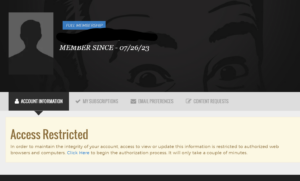 Motherfucker, I literally signed up for this website using the same browser and computer.
Is this a way to stall me from canceling my membership?
I don't know.
But when you confirm this information, canceling your membership for both Mr Skin and PlayBoy Plus is easy. 
Unfortunately, it takes up to 24 hours in order to get your Playboy Plus membership login details so too bad I wasn't able to check out that site. 
But this is a Mr Skin review, so I think I've completed my job.
Adios!
MrSkin.com Conclusion
Mr Skin is a cool celebrity nudity website with nude HD video clips of celebrities having sex in movies, orgasms, nudity and more. It probably has the largest huge collection of fun content to enjoy.
The price is affordable for what you get, but there is a paywall every time you try to watch a full HD clip as a free user.
Speaking of users, many of the movie titles have user reviews letting you know whether this movie is hot enough to beat your meat to or not.
Instead of spending your entire life watching thousands and thousands of movies and trying to pinpoint the new celebrity scenes, everything is laid out on his website.
You won't have to do long legwork yourself. 
If you ever get tired of watching nude celebrity clips, the site has a live cam girls section to enjoy real porn stars doing freaky things on screen.