Get prepared to get blacked by the BBC Sluts sucking dicks six ways til Sunday on
Reddit NSFW /r BBCSluts
. BBC stands for Big Black Cock - something you don't have. It's basically a large penis on a big African-American body.
These BBC cocksters sling their one-eyed monsters around inside Lilly-white women, who look like they belong on an episode of the Brady Bunch - like they have never seen a black man in their gated suburban communities before.
So they taste the forbidden fruit and I give my review about this centuries-long domination between slave master and bed buck represented in porn subreddits like NSFW /r BBC Sluts.
Reddit Review: /r BBCSluts Porn Sites Community Information
This community brags that it is the #1 BBC source for this type of adult porn content on Reddit. I'm sure there are better BBC porn websites out there. These dudes list all types of gifs, pics, and more regarding strong, buff black men tearing up some innocent white pussy as if they're on a slave plantation.
167,000+ members enjoy what they see and 264 people are online on this lonely-ass Saturday night. I guess they have nothing else to do but watch hard cock and big knocks in action! Surprisingly, this group was created July 16, 2014 so they have put in a lot of work to get where they are. There are a lot of people (I wonder who they are) who likes to see BBC sluts engaging in interracial sex.
The rules to follow when posting anything to this subreddit group is very simple:
Must be a girl present in the video
- No one wants to see a flash of your dick. They want to see a woman involved some kind of way. This rule seems to be strictly enforced.
No source requests
- Don't even think about asking the poster where is the source of the video. You won't get it because they cannot post it or risk getting banned.
No incest
- Apparently, no wants to see this shit, but, how will that get into a group like this?
No racism
- Now you know there are some severely insecure white guys weighing like 300 lbs from eating food stamp-purchased foods while spending their loser existence on Minecraft and watching conspiracy vids about natural decline, who get jealous of black guys banging white women. They hate that shit in their souls and will talk mess until the cows come home! Sheeiitt, even when the cows come up they will talk shit to the death.
Hoo-ray to this Reddit group for keeping that shit at bay!
Kik
- The women in the video are not the ones posting the stuff. Some dumbasses can get confused by that and might comment, "let me get your kik, bb".
Only big ones
- They only want the big dicks on there, no small or medium-sized ones. Just because a dick is bigger than yours does not mean it is a monster. Therefore, viewers get exactly what they came for - which is BBD.
Amateurs
- They don't want the professional stuff, leave that for the birds, only at-home amateur stuff.
These rules give you an idea of what type of content is posted here.
Another good thing is the list of related subreddits like /r/bicuckold /r/bbcpersonals /r/her1stbbc and others you can visit.
This one has a chatroom which is cool as hell. Join and chat. Any time are a few thousand chatters. But, when Ii typed "hello" my text did not pop up in the chat box, so I have no idea what's wrong with the system.
The community bar has other porn sites you can visit if you feel insecure seeing mandingo dicks ripping open white twats. One is Terk.NL, never heard of them, with some interesting BBS stuff. It seems the vast majority of this BBC stuff comes from, so it makes me ask the question of whether these subreddit posts are from the users or moderators. Or maybe the subreddits are taken from Reddit and posted to Terk.NL.
Another raw ass porn website that /r/BBC Sluts reference is theporndude.com, which speaks for itself. You should already know about that guy. He's the original porn reviewer. #Saulte, general.
Another website they advertise is the Best Sex Cam site that has a list of cam sites like
Jerkmate
, PornGeek,
LiveJasmin
,
Chaturbate
, and more stuff. Rad!
What surprised me, considering there are a lot of members and some online and daily video posts with a lot of views and a nice handful of upvotes, is not many people are commenting. I really wonder why...
Oh, I see why now. Some guys are saying stuff like "Natural Selection" in reference to a black guy banging a hot white girl. Then you got white girls talking about, "this is why I'm black only" and posting videos of themselves getting blacked-out on some black dick. Of course, comments like that invite the shit talkers!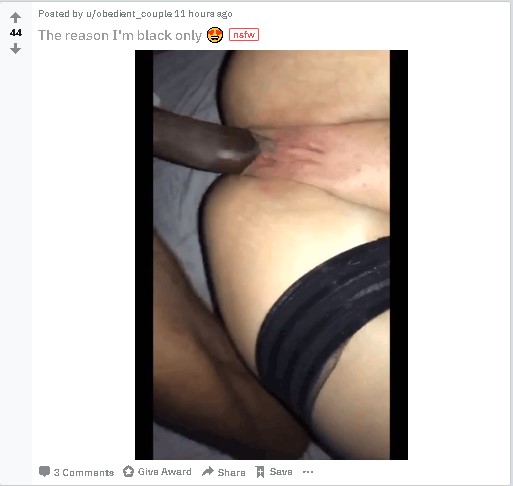 One guy posted his girlfriend fucking a black guy and a lot of guys seem to like it. Here is another comment from a different video
"Turns out he's part black. He should be thankful he got black cock out of the mix."
Wow!
Then you got a couple, and maybe it's the black guys, saying stuff like "Wishing it was mine." Oozing with jealousy. But you do got some guys who will give up props "Hot and nasty" and "Nice. You know he enjoyed that pussy."
Reddit has a bot that removes some of these posts. I really wonder what the messages are. You can only imagine the variations of the
n-bombs
being dropped. Below is your social proof of what I am saying.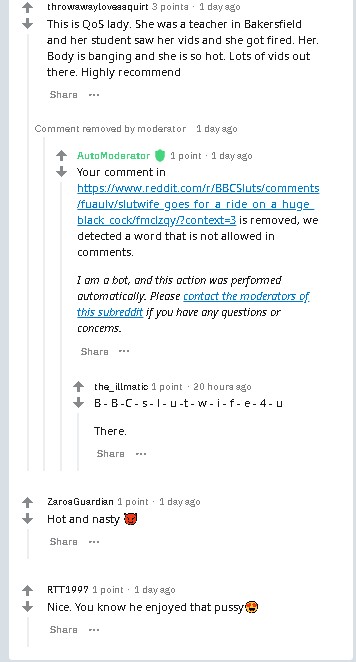 On the flipside, there are some black guys on there trying to rub it in the white guys' faces. Not cool, bro! One post says "she told me to fuck her because her boyfriend couldn't handle all that white ass." Come on, stop with the race baiting!
BBC Sluts Sex Videos Reddit Review Filters
Reddit has several usual filters you will find across the entire website for different subreddits:



Hot - Most popular ones



New - Recently uploaded ones



Top - Has the most amount of upvotes



Rising - Generating a large amount of views and upvotes
Final Word About Reddit BBC Sluts Subreddits
My final word is, "are you mad bro?" It's just porn. Also, why you got to stunt and floss everything you got? You're born with a big endowment. Good for you! And white guys, calma, amigos. There are plenty with monster cocks.
I really would like to meet the guys or girls who opened this group.