So, you want to try VR porn, and you heard VR Bangerz is the shit.
The site IS touted as one of the best VR porn sites out there, but the thing with VR porn is—it's a hit or miss.
You don't want to give up on it because you ran into some VR porn sites that suck.
Because VR porn IS the shit.
You just need to experience it through the best VR porn sites. So, buckle up, boys (and girls,)—it's STORY TIME, and here's my NO BS VR Bangerz review, so you can decide for yourself if it's worth your while.
VR Bangerz Review: The Bottom Line Upfront
What I like about VR Bangerz
Supports all major VR headsets
High video quality (up to 8K)
Some of the biggest porn stars are on it
Members get 7 bonus videos from other sites
Long-ass videos (40 minutes on average)
What I don't like about VR Bangerz
No teledildonics scenes
You can pay-per-view, subscription only
The daily download limit of 10 videos
VR Bangerz Review: Best Features
600+ videos
Regular updates—3 new scenes every week
Works with the free PLAY'A app
Gay & Trans sections available
Smell VR device lets you smell the scenes
Pricing
1 month - $25
12 months - $8.25 a month, $99 total
Lifetime - $250
Frequent deals and discounts!
A VR Bangerz overview
VR Bangerz is one of the OG best VR porn sites that's been around ever since VR. It has grown and evolved together with the technology, in a bid to give us, the viewers, the best VR porn experience.
It's been awarded more times than I can list here, with the most notable awards coming from AVN Awards and XBIZ Awards, and for best scenes.
VR Bangerz runs on subscriptions, and you can both download and stream their VR porn games and other porn content.
My VR Bangerz rating 4.8/5
To not keep you hanging anymore, let me tell you how I feel about VR Bangerz upfront, and I'll do it in numbers—I give it a 4.8/5 rating.
And let me shortly touch up on why.
I love the fact that they've got a huge gallery of scenes and porn games available and their commitment to regular updates.
They keep that content coming like there's no tomorrow—3 new videos each week. Do you know how hard it is to make VR porn?
The quality is top-notch, and I like how you can watch their content on almost any device.
BUT I hate that there's no teledildonics. Damn, I really love that stuff, and so do many more, so I think it's prime time for VR Bangerz to take notice.
The other bummer is that you can't pay-per-view or buy just one scene, like you can on some other best VR porn sites, like Virtual Taboo.
But I do feel that subscribing is worth it, so I don't have a big issue with that.
VR Bangerz Review: My Go With One of the Best VR Porn Sites
Alright, boys, girls, and NBs—it's time to start with my VR Bangerz review! This wasn't my first rodeo with VR porn, but I was still pretty pumped about it because:
It's VR porn! What's not to be pumped about?
I had seen VR Bangerz on top of all the best VR porn sites list imaginable.
As you can see, I went into the experience with a positive attitude and big expectations.
And this VR Bangerz review wouldn't be fair if I didn't say the experience matched my expectations, with a few bumps along the way.
But let's start from the beginning.
What You Need Before Getting Started With the Best VR Porn Sites
VR porn sites like VR Bangerz, Virtual Taboo, and others aren't like regular porn sites where you can just log in and watch porn games, often for free.
You need to come prepared.
The most important thing you need before heading to any of the best VR porn sites is your VR headset.
You can buy the cheaper VR headsets that go with phones (VR Bangerz supports both iOS and Android), but these are kinda lame and don't provide the best VR experience.
And that's not just me saying that.
VR Bangerz' Kacper Zielinski said it himself—''A smartphone will give you only 20% of the potential of VR porn.''
Standalone VR headsets are EXPENSIVE—they go for hundreds of dollars. But they are the best way to go about porn games, as you'll find.
I already had my Oculus GO, so I used it with VR Bangerz.
Whichever you've got, you're in luck because VR Bangerz supports them all! Some of the best VR porn sites (like VR Bangerz and Virtual Taboo) support all major headsets, while others won't.
What VR Headsets Does VR Bangerz Support?
VR Bangerz beats most other VR porn sites when it comes to which VR headsets it supports because it supports them all!
From old legends like Gear VR to newer ones, other VR porn sites (like Virtual Taboo) haven't caught up with, like Oculus Quest 2.
Here are the major VR headsets you can play porn games with on VR Bangerz:
Oculus Rift
Oculus Go
Oculus Quest 2
PSVR (yay!)
HTC Vive Pro
Gear VR
Microsoft MR
Oculus Quest
iOS
Android
VR Bangerz Review: Getting Started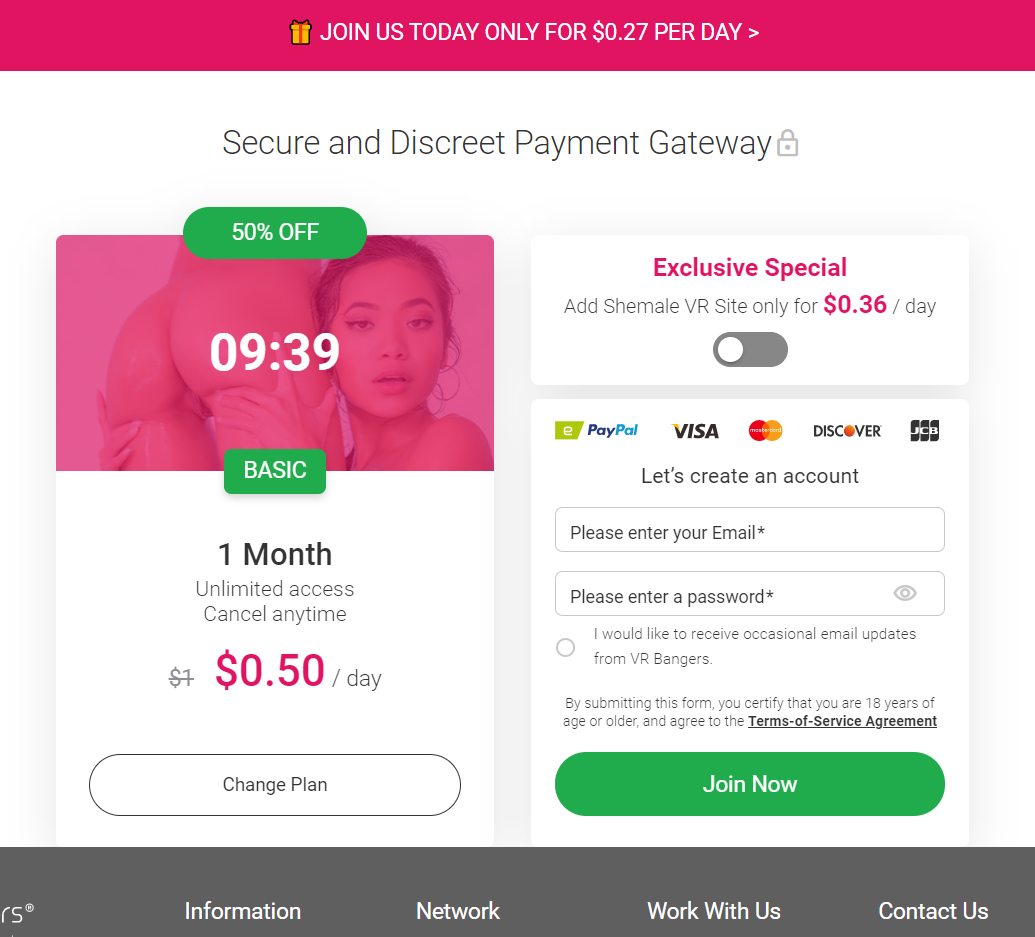 To get started with VR Bangerz, you must sign up. And pay! There are 2 videos that are marked as 'free' on the site, but they're like a minute long, with interruptions and scene-cutting.
Click on the green 'JOIN NOW' button at the top right corner of the screen.
You'll get to choose which package you want. I choose the cheapest one—the monthly one that costs $25.
Give the site your email, set your password, and share your credit card information.
And that's about it—you're ready to roll!
Navigating the Site's Videos
When it comes to finding the VR porn games or scenes you're interested in, there's good and bad news.
Let's start this part of the VR Bangerz review with the bad—the search engine leaves a lot to be desired.
I was kinda disappointed about this since VR Bangerz is one of the best VR porn sites. Even less popular sites like Virtual Taboo have advanced search options that let you look for just about anything.
I mean, the search bar's there, but it won't help you much beyond their categories.
Speaking of categories—that's the good part.
There are over 100 categories available for just about anything. All the most popular porn terms are there, and then some.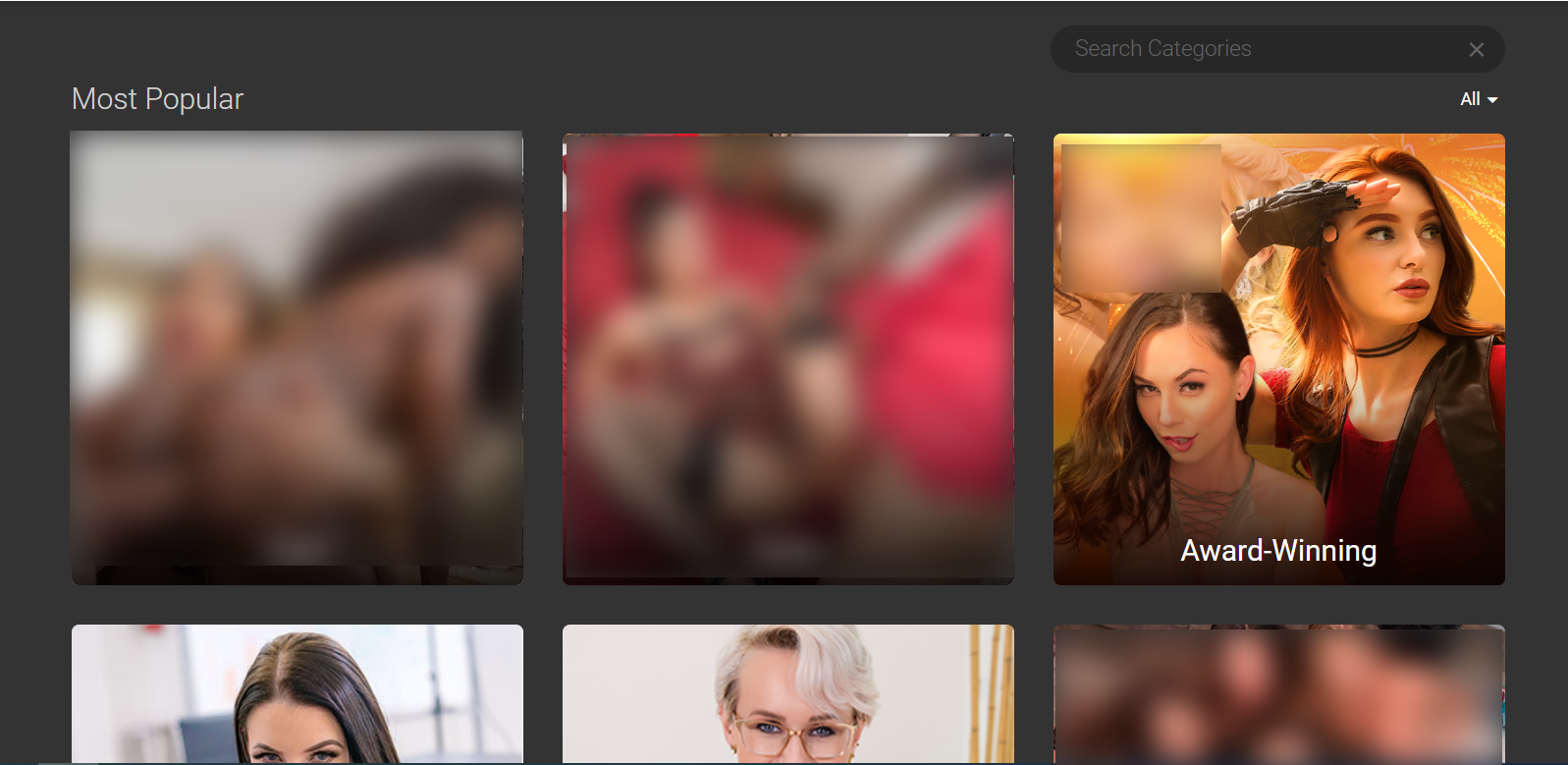 Some of the most popular categories available (I'm not gonna write them all, obviously):
Anal
Asian
Award-winning
Big tits
MILF
Orgy
180 VR
360 VR
Cosplay
VR Bangerz Review: The Porn Stars
Continuing this VR Bangerz review with one of the things where VR Bangerz beats all other best VR porn sites (including Virtual Taboo)—their pornstars.
VR Bangerz has all of the biggest names in the porn industry.
Some of the porn stars you can see in VR Bangerz' porn games and videos are:
Riley Reid
Eva Elfie
Angela White
Cory Chase
Adriana Chechik
Skylar Vox
Kendra Lust
And obviously, I'm not gonna list all of them either (there are over 400 of them), but you get the point—all the IT girls of porn are on VR Bangerz. Whichever is your fave, you'll likely find her there.
The good thing about this part is that you can easily find videos of your favorite porn star by typing her name in the search bar. It's good for that, at least.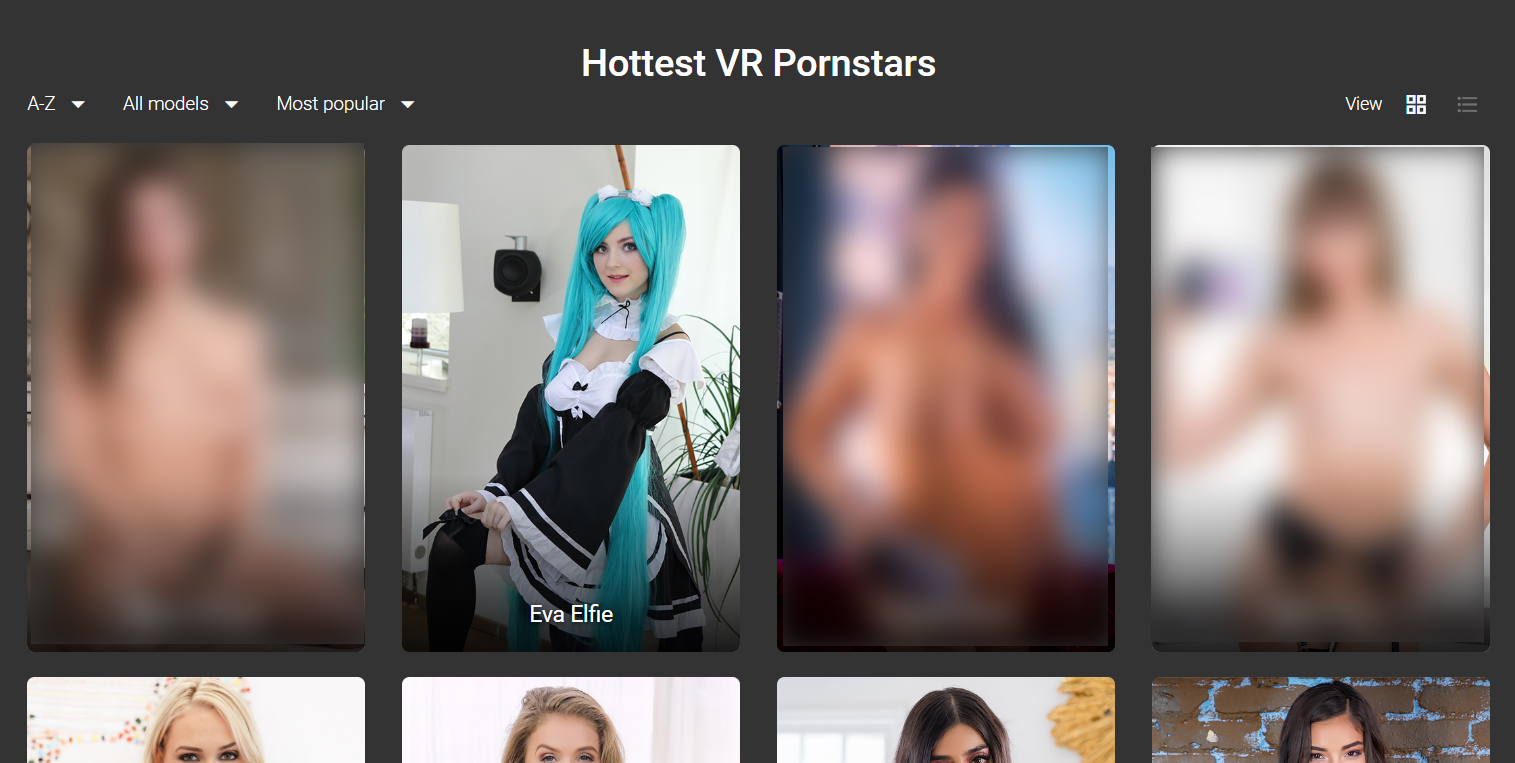 How Does VR Bangerz Work?
Tl; Dr of this part of the VR Bangerz review: VR Bangerz is pretty easy to use, overall.
While it lacks an advanced search filter, you find what you're looking for via the categories. You can click on a video that seems interesting, and you'll see what you can expect to see in the buttons below.
It looks like this ⬇️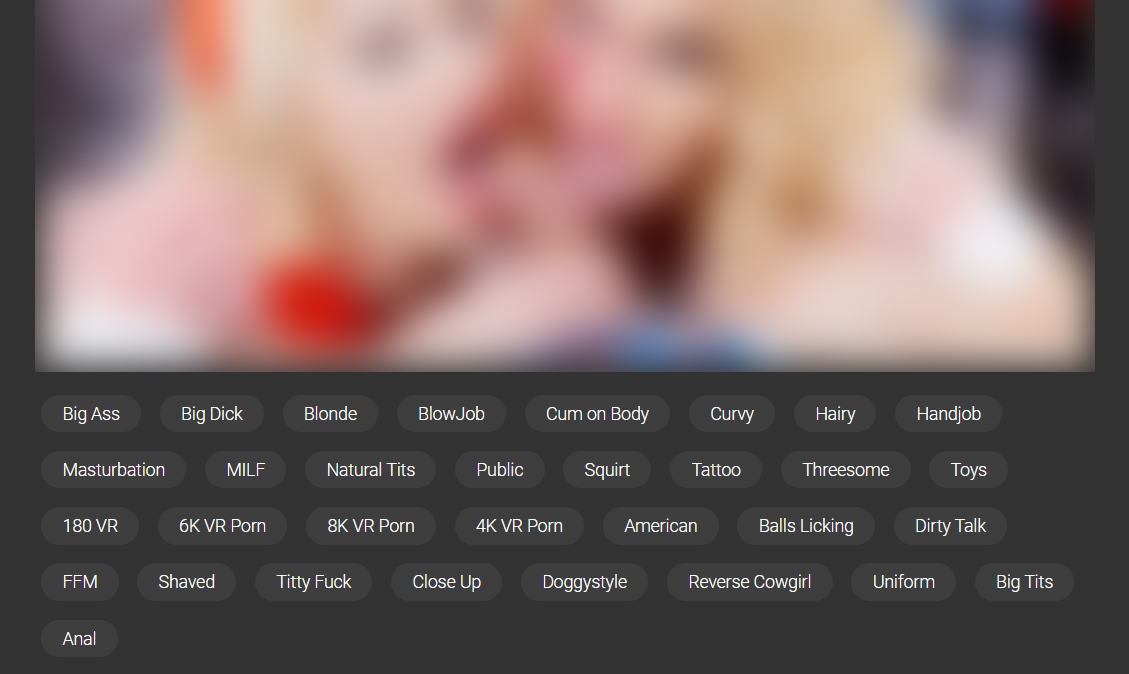 Once your VR headset is all hooked up and you've found the video or porn games you want to watch, you just press play and get in that porn, man!
There's no teledildonics on VR Bangerz, though, so you'd have to DIY your orgasms. The amazing content kinda makes up for the lack of teledildonics, but I'm still kinda salty over it.
When it comes to how you can watch porn games and movies, you can choose to either download or stream the content. I'll get into the differences in the section below.
Streaming vs. Downloading Content
Like with Virtual Taboo and all the best VR porn sites, you can watch porn games and content either by downloading or streaming.
And, like with other best VR porn sites, both have their upsides and downsides.
I prefer to download because the quality is just better, and there are no lags or annoying glitches. You can also watch porn games and other stuff while you're offline.
But downloading is a bitch when it comes to how much space these scenes take.
Luckily, VR Bangerz' got us with their PLAY'A app that takes care of that inconvenience. However, unlike Virtual Taboo and other best VR porn sites, VR Bangerz has a daily limit of downloaded videos—10.
Some people hold it against VR Bangerz, but I personally don't.
Seeing how these porn games and videos last 40 minutes on average, I would have to spend over 7 hours a day watching them if I am to break the limit.
And I have to be real with you in this VR Bangerz review—I ain't got the time or jizz for that, man.
When it comes to streaming content, you can do it with the help of their PLAY'A app, and there's no limit on how much you can stream.
You'd need fast internet for streaming, as you would for Virtual Taboo and all other sites. I found the VR Bangerz streaming to be pretty good, with very little lag.
The PLAY'A App
I just have to mention the PLAY'A app in this VR Bangerz review—it absolutely steals the show.
The app is the official VR Bangerz app that lets you watch its VR content. I'll just let you in on the bad first (because there's a whole lot of the good that I'll be listing below)—you can only use this app with the site.
It's nothing new in the world of the best VR porn sites—most push their own app.
However, it's worth noting as some might find it to be inconvenient, especially if they already have apps from other best VR porn sites like Virtual Taboo installed.
Alright, that part's covered—now let's go on to the good things about the PLAY'A app:
It's free
You can control everything with your hand gestures
For downloading and streaming
Keeps your VR porn collection there so it doesn't take up space
You can set a pin code to keep your collection away from prying eyes
Quick jump to the next position or the 'pop shot'
Panic mode turns everything off if someone walks in on you
That's it regarding the PLAY'A app for this VR Bangerz review—the app itself gets a 5/5 rating from me.
Best Scenes on VR Bangerz
Alright, it's time for this VR Bangerz review to get heated! That's right—this is the part where I tell you my favorite VR porn scenes from the site.
Adriana Chechik in Wet Adventures - I'd take Adriana any way on any day. But having a POV VR experience where it feels like she gives you head, rides on you, and lets you take her from behind? Priceless.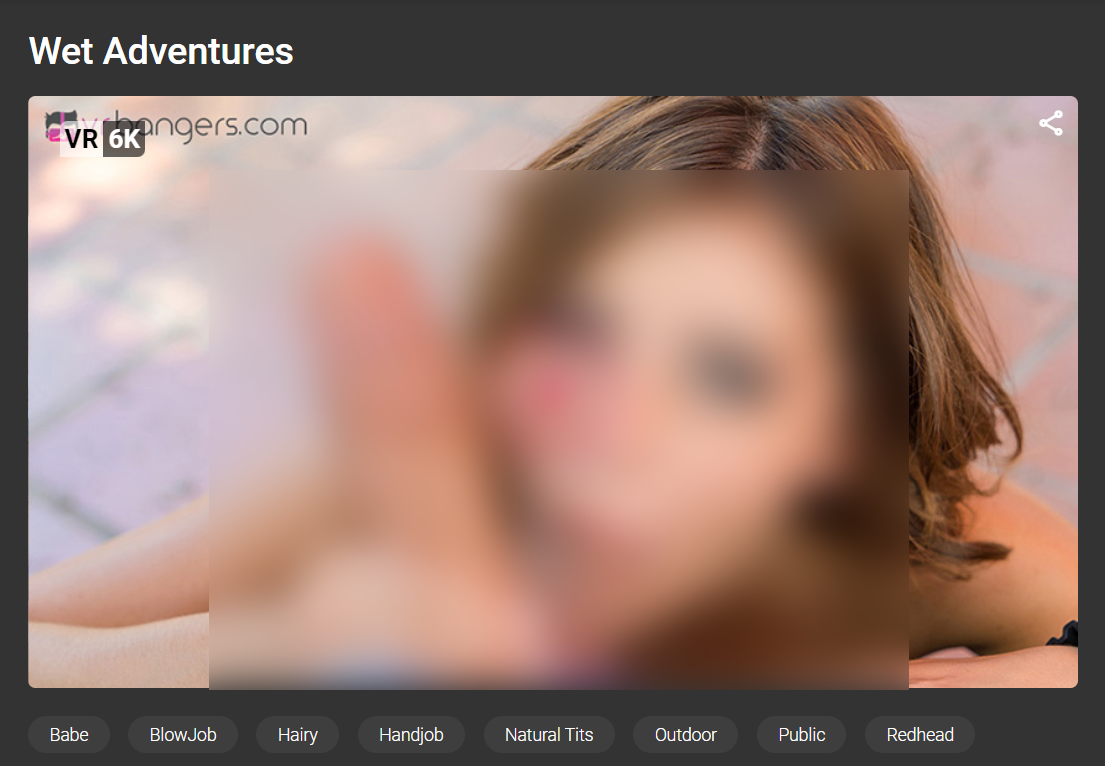 Desperate Housewives (A XXX Parody) - Parody porn is gaining traction fast, and after this one, I can see why. Fucking a bunch of housewives in all ways for almost an hour? I'm in.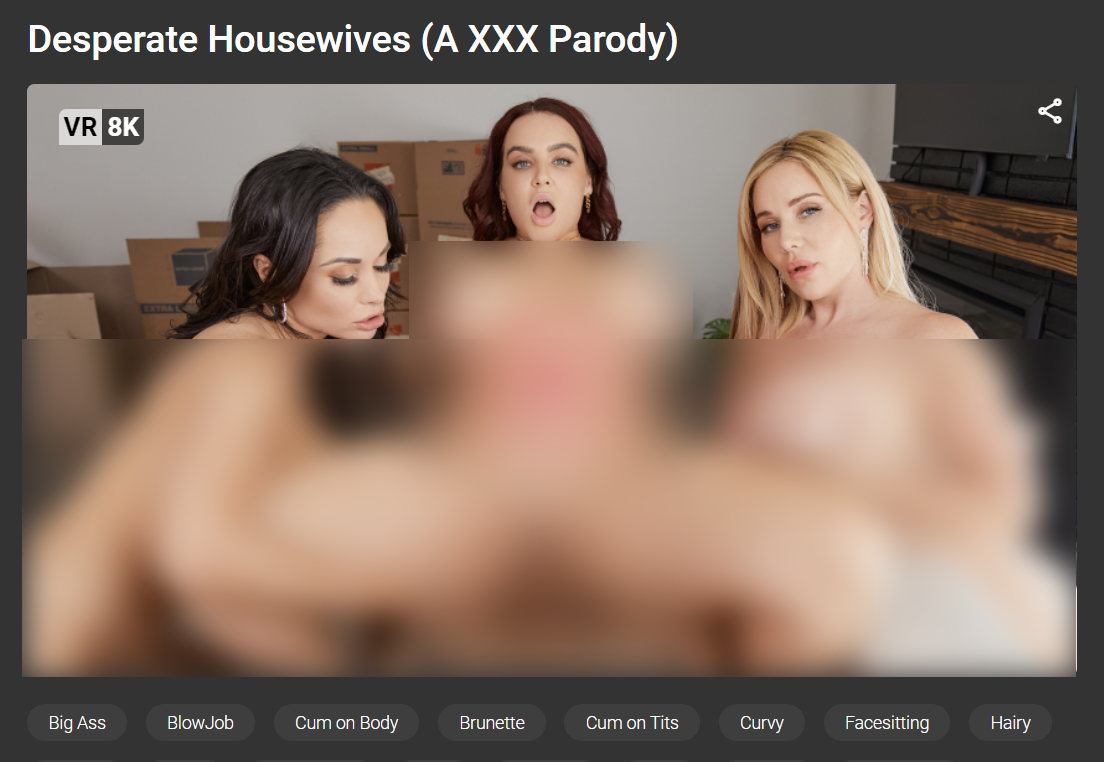 The Secret Ingredient - Eveline Dellai is super hot, and this is one of the best anal scenes on VR Bangerz, IMO. There's much more than just anal, but that ass…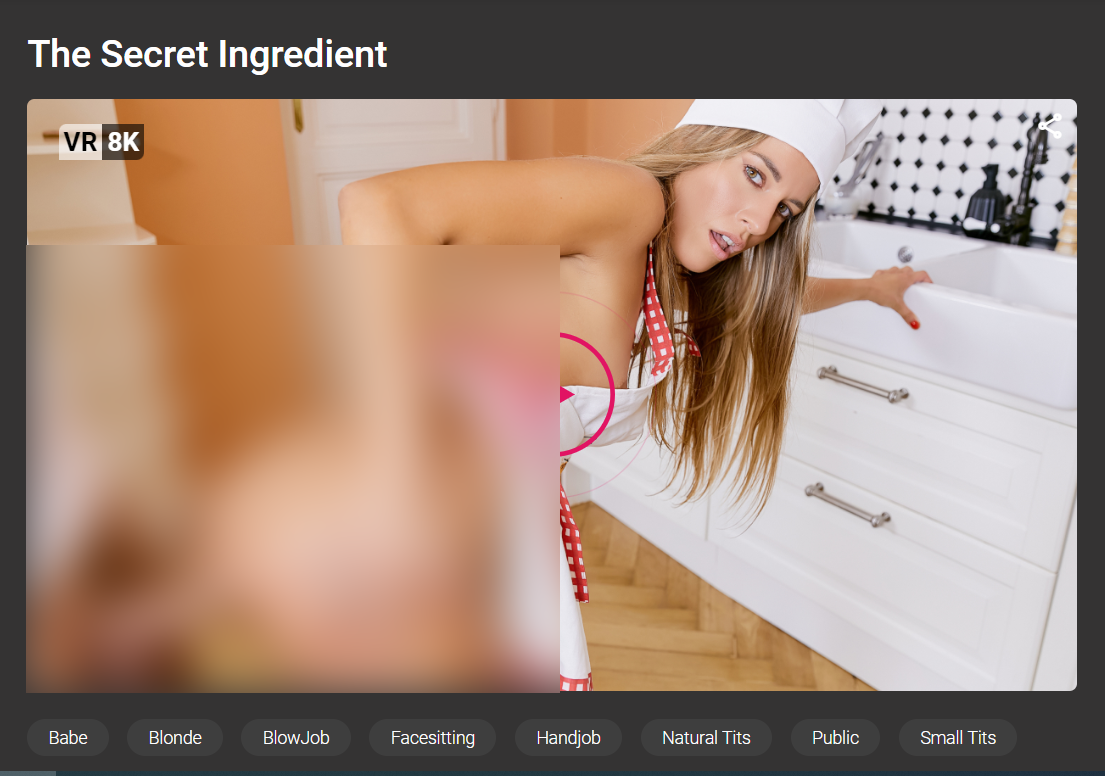 The Porn Games
I'll start this part of my VR Bangerz review by admitting that I usually find porn games kinda 'meh.' But VR Bangerz porn games are actually pretty dope.
VR Bangerz has a special porn games feature called Dezyred.
It's separate from the site, but you get it for free when you sign up for VR Bangerz. What I like about these porn games is that they aren't some goofy 'press the button for the model to shake her ass' kind of porn games.
They're the porn!
And not just the porn—they're VR porn. You get to experience everything you would with their porn videos, but they're more interactive.
You get to choose your moves, and the sexual and non-sexual scenes that happen next will depend on those moves.
VR Bangerz Review: The Pros and Cons, Explained
As we're nearing the end of this VR Bangerz review, I thought I'd elaborate more on the pros and cons of VR Bangerz. That way, you can get a clear picture of what you can expect and figure out for yourself if it's worth your while.
VR Bangerz Pros
All VR headsets go - No matter what kind of a headset you've got, you'll be able to watch streamy VR porn on VR Bangerz, which isn't always the case with other VR porn sites. That includes both iOS and Android phones and cardboard devices.
Regular updates - VR Bangerz adds 3 new porn scenes every week to their already rich gallery. This is no small thing, as it takes time, effort, and money to make VR porn, which is why not many VR porn sites are able to do it.
All big names in the porn industry - You'll be able to hop into a porn video with the biggest porn stars out there. VR Bangerz works with all major names in the industry, and there's plenty of content.
Gay and trans sections - This VR Bangerz review wouldn't be complete if I didn't mention the gay and trans parts on VR Bangerz. The site's got one of the biggest collections of gay and trans VR porn scenes out there, which is a huge plus.
7 bonus videos from other sites - When you pay for your VR Bangerz membership, you'll also get access to 7 bonus videos from its sister sites, which is pretty dope. Not many VR porn sites offer this!
VR Bangerz Cons
NO TELEDILDONICS - Dang, I still can't get over it. There's no option to use teledildonics with VR Bangerz as of now, so you'd have to DIY your orgasm. This is a big con in my book as I really love teledildonics.
You can't pay-per-view - Some other VR porn sites, like Virtual Taboo, allow folks to pay for their VR porn videos per view. That's a great option, especially if you're unsure you want to commit to subscribing or simply want to watch them occasionally.
The 10-video download limit - This is not a big thing for me personally, as I've already explained, but it's a limit. Virtual Taboo and other best VR porn sites don't have such limits, and some don't like it, so it's worth mentioning.
VR Bangerz Reviews: What Others Are Saying
This is my personal VR Bangerz review, but I wanted to include other folks' opinions on the site so you'd have more perspectives. That way, it'll be easier for you to decide whether or not VR Bangerz is for you.
Here are VR Bangerz reviews from folks online.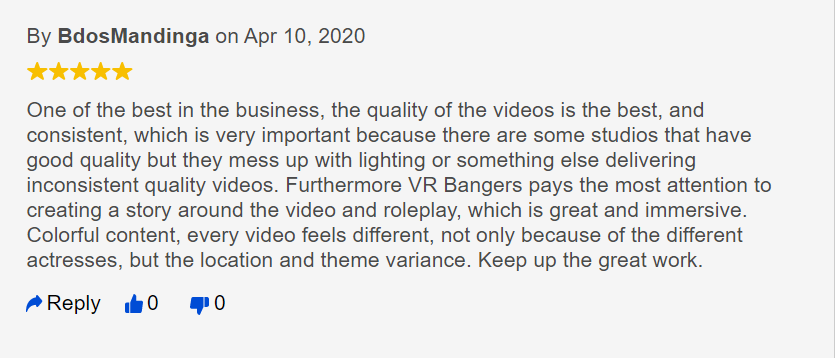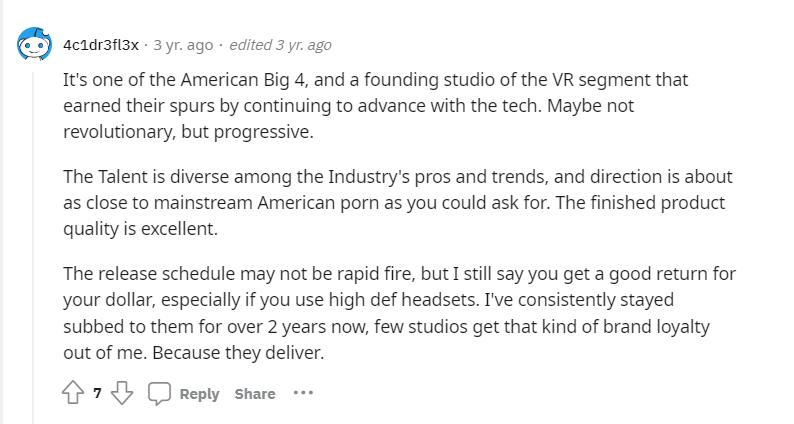 VR Bangerz Alternatives
OK, so you've read this VR Bangerz review of mine, and you figure VR Bangerz isn't for you. Here are some VR Bangerz alternatives you could try instead and some of the best VR porn sites as of now.
1. Virtual Taboo - Best a la Carte VR Porn

Pros
Wild VR porn content
3 new videos each week
Compatible with most headsets
Cons
No extra content from sister sites
More expensive than other best VR porn sites
Pricing
1 month - $30
3 months - $20 a month, $60 total
12 months - $8.33 a month, $100 total
Lifetime - $250
Virtual Taboo just had to be on this list as one of the best VR Bangerz alternatives. What makes Virtual Taboo stand out is the fact that you don't have to subscribe—you can buy VR porn per piece for as low as $9.
That's amazing as it gives you a chance to see if you like the site enough to subscribe or simply buy some videos here and there when you feel like it.
Speaking of subscribing, it's a bit more expensive than on other sites, so there's that.
But Virtual Taboo IS one of the OG VR porn sites and one of the best, with probably the biggest gallery of exclusive content—over 650 videos.
And more just keep coming, as Virtual Taboo adds 3 new VR porn videos each week.
Virtual Taboo also stands out when it comes to the type of porn you'll find on it. There are all sorts of freaky stuff over there—however weird what you're into may seem, you'll find it on Virtual Taboo.
2. BadoinkVR - Best Cheap VR Porn Site

Pros
You get a free Google cardboard!
Free content from 3 sister sites
Most affordable option
Cons
Poor search filter
Older stuff is only 1080p
Pricing
1 month - $10
12 months - $5.91 a month, $71 total
Lifetime - $250
BadoinkVR is not only one of the cheapest VR porn sites but also one of the most awesome ones and, as such, definitely deserves its spot in this VR Bangerz review.
Subscribing is only $5.91 a month if you choose to subscribe for a year.
Even if you are not willing to commit for that long, you can still subscribe for a month for only $10, which is cheaper than most best VR porn sites offer.
For that much, you'll get access to a whole lot of VR porn—a gallery of over 600 videos and counting.
Most of them are of high quality, 7K, but there are some older scenes that are only in 1080p.
If you subscribe, you'll also get a free Google Cardboard, which lets you watch VR porn on your phone. Well done, BadoinkVR!
The site does have a poor search filter, but it's overall easy to navigate BadoinkVR.

Pros
Over 50,000 videos
Seamless live-streaming
Pay-per-view AND subscriptions
Cons
More expensive than other options
Lack of detailed guidelines
Pricing
1 month– $38
3 months – $30 a month, $90 total
12 months – $20 a month, $240 total
Lifetime – $700
As a last VR Bangerz alternative in this VR Bangerz review, we bring you SexLikeReal. The site has the biggest gallery of VR porn scenes—over 50,000.
Noted, it's not exclusive content, but who cares where their porn comes from? I know I don't.
SexLikeReal also boasts a high-resolution quality of 8K.
They'll let you buy content, a piece or subscribe, whichever you prefer. Subscribing is more expensive than on other sites, but it's definitely worth it.
There are also VR live cams.
SexLikeReal excels when it comes to live-streaming content, and the streams are seamless and without annoying glitches.
FAQs About the Best VR Porn Sites
Is It Safe to Watch Virtual Reality Porn Videos?
Yes, it's safe to watch virtual reality porn videos from reputable VR porn sites like VR Bangerz. Just make sure you're sitting or lying while doing it—you won't be able to see anything around you, and you don't want to hit something.
What Are the Best VR Porn Sites?
The best VR porn sites are VR Bangerz, Virtual Taboo, BadoinkVR, and SexLikeReal. Their content comes in high-quality resolution, and they accept most VR headsets.
What's the Best VR Porn Site for LGBTQ+ Folks?
VR Bangerz is the best VR porn site for LGBTQ+ folks because it has a special gay and trans section with a large number of videos.
VR Bangerz Review: The Final Verdict
It's time to wrap up this VR Bangerz review, so I'll be short—9/10, would recommend. It has some flaws (don't we all?), the biggest of which is the fact it doesn't support teledildonics.
If you can get over that, you'll find yourself subscribed to a VR porn site with one of the highest production values. Give VR Bangerz a try!
Nothing was spared to make those videos, and the site keeps them coming.
And they will keep you cumming, and coming back for more—I guarantee that. If you don't believe me, give it a try, and you'll see for yourself

PORN VIDEO